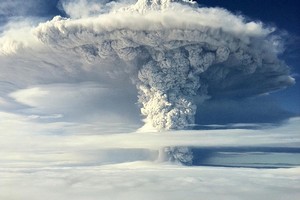 Flights over New Zealand are again being disrupted by volcanic ash from Chile's Cordon Caulle, with Jetstar and Qantas cancelling flights in and out of the country tomorrow.
Qantas tonight announced all flights in and out of New Zealand from 7am tomorrow would be cancelled until further notice, with passengers advised to check the airline's website for further updates.
"The Qantas Group's approach to flying is based on the highest standards of safety and risk assessment," a statement from the airline said.
Jetstar said it had cancelled all flights to and from New Zealand until 12pm tomorrow. It would be issuing an update on afternoon flights tomorrow, a statement said.
Qantas and Jetstar also cancelled flights from some Australian cities tomorrow after earlier cancelling flights in and out of Adelaide, Newcastle and Sydney today.
New Zealand Civil Aviation's manager of meteorology Peter Lechner told NZPA tonight the ash cloud was moving across from South Australia, and was expected to head over New South Wales tonight then across to New Zealand.
"It will be across Sydney later this evening then will head out into the Tasman overnight. We expect it over the North Island from Whangarei to Levin by late tomorrow morning," he said.
"It's going to be at a height over 24,000ft, which allows plenty of scope for airline operations underneath."
Mr Lechner said it was up to individual airlines whether or not they continued flights as normal.
"As far as we can see, it's looking OK ... we'll just have to see what happens overnight."
Air New Zealand said it was currently operating as normal at all domestic and international ports and would continue to monitor the situation.
Jetstar and Qantas last week cancelled services in Australia and New Zealand while the ash cloud circled the Southern hemisphere as Air New Zealand continued near normal operations by flying at a lower altitude.
The cloud disrupted scores of flights last week stranding thousands of passengers.
- NZPA