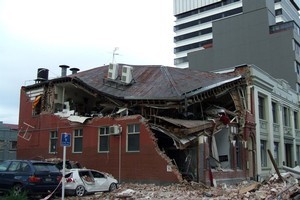 An international disaster recovery expert says demolition teams should be working seven days a week in earthquake devastated central Christchurch.
International agency Architecture for Humanity chief executive Cameron Sinclair on a brief visit to Christchurch told the Sunday Star-Times he was shocked at the slow pace of deconstruction work in the quake-damaged city's centre.
Mr Sinclair, who helped with rebuilding New Orleans after Hurricane Katrina, said the city could not afford to take weekends off when there were so many buildings that needed to come down before any reconstruction work could begin.
Around 1000 buildings in central Christchurch have been identified as needing to be demolished.
A spokeswoman for the Canterbury Earthquake Recovery Authority (Cera) told the newspaper that as an increasing number of buildings were signed off for demolition, the authority expected to see contractors working longer hours and over the weekends.
A Cera spokeswoman said the final decision on demolition lay with the building owner and while work could always be faster the authority appreciated the decisions were complex.
- NZPA