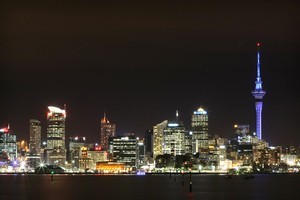 A better-than-expected 3.9 per cent rates rise for Aucklanders this year excludes an extra 1 per cent sting in the tail.
Council officers have deferred $400 million of capital works in this year's budget which are "likely to increase the projected rates increase for 2012-2013 by 1 per cent".
On Friday, Mayor Len Brown announced $81 million of efficiencies and savings to drive down a projected rates increase of 4.9 per cent to about 3.9 per cent without compromising services to the community.
The 3.9 per cent figure - less than the current 4.4 per cent rate of inflation - was welcomed by most councillors, including the leader of the right-leaning Citizens & Ratepayers ticket, Christine Fletcher.
A prime reason for the lower figure is a decision by officers to cut spending on new capital projects by the Auckland Council from $1.4 billion to about $1 billion.
The council has already cut spending on capital projects from $1.1 billion to $780 million in its first eight months.
Instead of spending $2.5 billion on capital works in its first 20 months, the council will spend less than $1.8 billion.
Chief financial officer Andrew McKenzie yesterday said officers were not under political pressure to defer projects to hold down rates.
Previous councils had been far too ambitious with their capital budgets and had been able to complete only about 70 per cent of the work, he said.
The Auckland Council was trying to be more realistic about what could be delivered and the final budget would contain a list of projects to be completed this year as well as a list of projects deferred to a later date, he said.
"We will catch up over time."
When it came to the delays in capital projects having to be funded by a likely extra 1 per cent rates rise next year, Mr McKenzie said that would be a matter for councillors and Mr Brown, who has promised to keep rates rises near the rate of inflation.
The council would also seek further savings through a procurement programme, investment in information technology and improving productivity, he said.
Orakei councillor Cameron Brewer said pressure would inevitably come on rates from delaying projects needed to cater for Auckland's unrelenting growth of 20,000 people a year.
Mr Brown said the new council was investing more in the region than ever before.
"The previous councils typically overestimated some of their capital expenditure and the new budget reflects a more realistic assessment of just what can be built, at the same time as keeping rates affordable for Auckland families."
He said next year's long-term plan would involve changing and reordering priorities across the region.