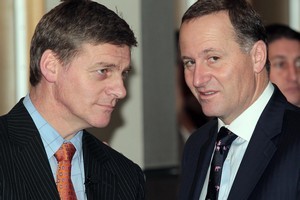 John Key is positioning the November 26 election as the mandate for National to implement in full the guts of next week's Budget.
It is quite an extraordinary state of affairs; almost as if the Government has parked itself in a state of limbo for six months while it builds support to do the very job voters thought they had elected them to do in the first place - govern.
This was markedly evident on Wednesday when the Prime Minister began softening the public for impending Budget cuts to KiwiSaver tax credits, plans to curb Working for Families payments to higher-paid households and trim entitlements to interest-free loans.
The problem is that instead of implementing these cost-cutting moves straight after next Thursday's budget, Key said they would not go into effect until the Government was returned at the next election.
Key thought he was boxing clever when he backed National into a corner at the last election, with his absurd promise to keep Labour's unsustainable election bribes in place. By election time 2008, those policies were already clearly unaffordable, a fact made obvious by the serious impact of the global financial crisis and persistent domestic recession on Government tax flows.
But instead of using his considerable political cachet to confront fiscal reality head-on, Key bet the New Zealand economy would bounce back enough for National to continue to maintain the Great New Zealand Voting Delusion that this country can afford a lifestyle we have yet to earn.
If Key had made such an absurdly wrong punt in his previous career as a forex trader he would no doubt have been down the road ahead of his former colleagues at Merrill Lynch, one of the prime investment house basket cases that was left naked when the sub-prime mortgage crisis burst.
It's notable that the only serious revenue-raising measures which Key and Finance Minister Bill English have been talking about - such as the partial privatisation of state-owned power companies - are also consigned to the post-election basket.
Yet, despite the fact that Key says the Government lacks the mandate to implement these big ticket policy changes - they are still expected to feature in the Budget rhetoric.
I think this is wrong.
Budgets should surely be based on what a Government knows it can implement. Not measures for which it says it first needs to first gain another electoral mandate.
But going down this route, the Government is shifting the Budget dangerously close to being a party manifesto.
The telling point will be whether the Budget does include Treasury forecasts which take into effect the impact on the Government's finances if it implements these changes in a post-election environment.
Tough call.
Where Key and English are on more solid ground is with their softening up for zero new spending in the 2011-2012 financial year.
After the first Canterbury earthquake they said new spending would be cut from $1.1 billion plus 2 per cent to $700 million-$800 million. But the February 22 earthquake meant tough measures were needed.
It is inevitable Key and English will position the Budget as necessary for tough times. But unless they claw back the size of the personal taxes at higher income levels, they also remain open to the charge they are simply borrowing offshore to fund tax cuts. No different in concept really to the notion of borrowing to fund KiwiSaver tax credits which Key decried this week.
Out on the cocktail circuit, at chance meetings at the Koru Club and within boardrooms, there are also growing murmurs over Key's refusal to countenance a gradual raising of the age of eligibility for New Zealand Superannuation while he is Prime Minister.
Not surprisingly, those murmurs are also happening among long-time National Party members, some of whom have suggested the party should debate this subject - among other inter-generational issues - at its 2011 annual conference.
The problem is that Key has so much painted himself into a corner by his obstinate and quite irrational stance that even making the issue an agenda item would be read as a loss of confidence in his judgment.
Let's construe this as the "it would be a noose around John Key's neck" argument for basically doing nothing.
The counter-argument is, that irrespective of the personal foibles of any particular Prime Minister, the National Party should be debating controversial issues and forming clear-sighted long-term policy. Let's just call this stance the "it will be the noose around New Zealanders' necks if we don't do anything" approach.
It is a factor which Act leader Don Brash mined in the "Dear John" letter he sent to Key this week, spelling out why he had resigned from National to lead the smaller party.
"You have promised to resign as Prime Minister rather than face up to this need to secure New Zealanders' future," Brash wrote. "This is just as irresponsible as Labour's interest-free student loans or middle-class welfare. You are condemning older workers to a sudden shock, or younger workers to intolerably high taxes.
"That's what New Zealand First voters voted for, not National voters."
The experience of the 2008 election coupled with the current financial dire straits surely means neither National nor Labour should go into this election promising policies the country cannot afford.
Governments should take urgent remedial action on the fiscal front when warranted, instead of adopting the ostrich approach.