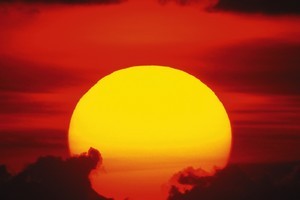 A landmark study shows that renewable energy such as solar and wind could power the world by 2050, but analysts say New Zealand's government needs to show more will to tap into its cleaner sources.
The report by the Intergovernmental Panel on Climate Change, a body of the world's top climate scientists overseen by the United Nations, is the first in-depth study of the potential role of renewable energy.
The study showed supply was not an issue - 97 per cent of the world's cleaner energy was untapped. Green energy growth depended on governments putting the right policy in place.
Ramon Pichs, who co-chaired the IPCC group tasked with producing the 1000-page report, says "it is not the availability of the resource but the public policies that will either expand or constrain renewable energy development over the coming decades".
Environmental groups here say the report - released in summary form yesterday - underscored the advantage of cleaner energy and should prompt re-evaluation of the New Zealand government's investment in coal, lignite and oil.
While the report was mostly optimistic, the IPCC noted that most clean technology was still more expensive than fossil fuels.
A move to 80 per cent clean energy by 2050, which would keep greenhouse gas concentrations at a "safe" level, would cost world governments around 1 per cent of global GDP.
IPCC authors believed that goal was not utopian - investment in renewables from 2009 to 2010 grew dramatically, from $186 billion to $243 billion.
The World Wide Fund for Nature (WWF) said New Zealand had a huge advantage in moving to greener energy.
"We've got comparatively low population, huge natural energy potential, and the land to do it. The only thing holding us back is will," said WWF climate change campaigner Lee Barry.
"We're getting left behind as the Chinas and the Germans develop these huge renewable energy industries, while our government is proposing that we expand offshore oil and gas, coal mining in national parks, and other climate-change inducing technologies."
The government's draft energy strategy, leaked last month, prioritised fossil fuel development over renewables, and stated that change to greener power would be market-led.
Yesterday, Acting Energy Minister Hekia Parata contended that the government's investment in fossil fuels did not overshadow its focus on renewables.
"Around half of the energy we currently consume is from petroleum. We can not just turn off the tap in our journey to a lower carbon economy."
Asked whether the government was prepared to invest more heavily in cleaner options, the minister pointed to the establishment of the Green Growth Advisory Group.
"One of [its] tasks is to report on opportunities for smarter use of existing technologies and innovation, including clean technology. I would not want to pre-empt their advice."
She noted that 32,000 gigawatts hours of energy came from clean sources in 2010 - the highest level ever.
The IPCC study said solar and wind power would be the most useful tools for weaning nations off fossil fuels. Tidal and wave energy were unlikely to play a significant part until 2020.
At present, New Zealand has 16 wind farms in place or being built, which provide around 4 per cent of the country's annual electricity. Ms Barry said wind was highly profitable, and could be developed without government assistance.
Environmentalists said bio-energy from wood-waste was another unexplored avenue.
IPCC report
- 97 per cent of world's clean energy untapped
- every country has access to at least one source of green energy
- renewable energy could move from 13 per cent in 2011 to 80 per cent in 2050, if governments backed low-carbon power
- solar and wind to play most important role, while tidal and wave power will not play a great part before 2020
- cost to avoid a climate crisis is US$5tn by 2020 and US$7.2tn from 2021 to 2030
NZ energy
- 74 per cent of electricity generated by renewable sources
- 30 per cent of total energy - including transport fuels and stationery energy - is generated by renewable sources
- government has aspirational goal of 90 per cent renewable electricity by 2025