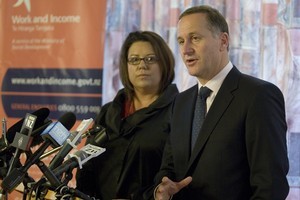 There will be $55.2 million over four years in the upcoming budget to get young people into jobs, Prime Minister John Key announced today at Trentham military training camp in Wellington.
Social Development and Employment Minister Paula Bennett said the new package would see subsidies for employers who agree to train a young person and give them a permanent job.
The Youth Employment Package, has three components: Skills for Growth, Job Ops with Training, and the Limited Service Volunteer programme.
"These initiatives will provides skills and training for young people so they're work-ready for good, solid jobs," Ms Bennett said.
Under Skills for Growth employers would get a subsidy to employ and train young people in high demand industries such as aged care, horticulture and agriculture.
Around 1000 young people a year would benefit by achieving industry-specific qualifications through the programme which would cost $17.2m over four years.
"We're targeting industries with strong demand for skilled workers, giving young people a real chance of getting into a career."
Employers would get a $5000 subsidy for training and in-work support to help the young person achieve a recognised industry qualification to NZQF level two.
The subsidy would be paid in stages:
* $1000 when the employer provided Work and Income with a training plan and confirmed job offer.
* $3000 after the young person had been in employment and training for three months.
* $1000 after a year - if the young person had achieved a qualification, been in the job for a year or was still in training.
Job Ops with Training was a refocused version of Job Ops, which incorporated training in the subsidy for employers, costing $13m in 2011/12.
Since its introduction in 2009/10, Job Ops had helped more than 10,000 young people get work.
The extension would see:
* a subsidy of $5000 to employers to be used for both wages and training.
* the employer develop a training plan that resulted in skill development for the young person.
"Job Ops has been successful for both young people and employers. We believe this takes it a step further by providing training on top of a job," Ms Bennett said.
An extra $25m over four year would allow 1500 people a year to have a Limited Service Volunteers (LSV) experience.
LSV is targeted to young people who've been on benefit for longer than six months and lack the confidence to find work.
The six-week residential confidence building programme for 18-24 year-olds was run by the Defence Force at Burnham, Trentham and Hobsonville.
"This Government is backing young people to gain skills and the confidence that gets them real jobs in go ahead industries."
- NZPA