Have you witnessed the damage? Send us your photos, video
Email here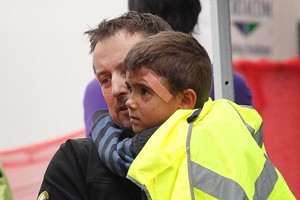 Auckland City Hospital and Starship Children's Hospital activated their emergency management plans yesterday to deal with expected tornado injuries.
Hospital spokesman Mark Fenwick said staff were increased at both hospitals' emergency departments.
A 30-year-old man, among the worst injury cases, was in a serious but stable condition at Auckland City Hospital last night.
The Auckland man was transferred to the city hospital early yesterday evening as his injuries were more serious than those of others.
Mr Fenwick said he could not say what the nature of his injuries were, but that he was now stable and was expected to be okay.
Several people already at the emergency department and who did not need extensive medical treatment were also cleared.
"We ramped up our emergency department as soon as we were told to stand by," Mr Fenwick said.
Last night, at the North Shore Hospital, nine people had been treated for what a spokesman said were relatively minor injuries.
They ranged from lacerations on limbs to minor cuts and grazes.
The group - a mix of children and adults - were being treated in the hospital's emergency department.
Another 14 people were expected to arrive by ambulance at the hospital last night.
Waitemata District Health Board spokesman Paul Patton said: "We should remember, too, that a lot of people are in shock, and so those patients are being treated accordingly."
Up to five people were to be transferred to Waitakere Hospital, in West Auckland, but by 7.30pm no patients had been taken there.
Mr Patton said Waitakere Hospital was on standby, however, in case patients needed to be transferred.
As of last night, no patients had been taken to Middlemore Hospital.