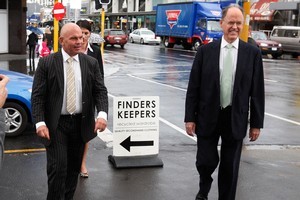 Don Brash wants to be finance minister, and claims the Act Party could gain 15 per cent of the vote in this year's election under his leadership.
"I'd love to be finance minister," he said last night.
"When I went into Parliament in 2002, that is what I was hoping to be. I wasn't planning to be National leader. I was planning to be finance minister in a Bill English-led National government."
His comments came after he deposed Rodney Hide as Act leader following a very public coup.
Dr Brash said the likelihood of him becoming finance minister could not be judged at this point. Prime Minister John Key would not rule it out, but said there was "virtually no chance".
Dr Brash is expected to be elected Act's leader at a caucus meeting tomorrow after Mr Hide yesterday announced he would stand down.
Mr Hide has said he wants to stay on in his roles as local government and regulatory reform minister.
However, Dr Brash said last night that he expected to discuss the issue with Mr Key next week.
"Those are held at the discretion of the Prime Minister but it is also the convention in a coalition that the leader of the party in which those portfolios are held has a view on that."
He indicated he would ask Mr Key to give Mr Hide's portfolios to another MP, citing as a precedent Mr Hide's decision to strip Heather Roy of her portfolios because of her coup attempt.
Dr Brash said he was prompted to return to politics out of concern over high levels of borrowing by the National Government and public spending levels.
He said National, including John Key, had "banged on" for years about closing the income gap with Australia.
"What irritates me is that the Government seems to have made no serious attempt to do anything about that."
Last night, Mr Key distanced himself from the "extreme" views of Act and said Dr Brash had "virtually no chance" of becoming finance minister or deputy prime minister after the next election.
The Prime Minister said Act was "not likely to be a party of such size that would be commensurate with those portfolios".
He said Act had always had extreme policies compared with National's moderate approach and "my view is that nothing has changed here".
Mr Hide's resignation yesterday followed a last-minute change of heart by Act MP Hilary Calvert, leaving Mr Hide with only his deputy leader, John Boscawen, on his side.
Dr Brash said he reassured Mr Key last night the change would not affect the confidence and supply agreement with National.
The leader of Act's parliamentary arm while Dr Brash was outside Parliament was also yet to be decided.
Asked if there was any place for Mr Hide in Act in the future, he said it had not yet been discussed. However, it was common for leaders who lost the leadership to leave.
Whether it was justified or not, Mr Hide was now "tarnished in some way".
Mr Hide said he wished to stay on and would continue to support Act even if there was no role for him, but would not say whether he would resign from Parliament or seek re-selection.
Act president Chris Simmons yesterday said the board had agreed to accept Dr Brash as leader only if there were no strings attached, including imposing a candidate in Epsom.
Dr Brash has said his preference is John Banks, but Mr Simmons said that would be decided on in coming weeks and could depend on Mr Hide.
Early this week, Mr Simmons called Dr Brash "grumpy", "angry" and "old", but yesterday he said he was confident that members would now unite behind him.
"They've all been shaken by the events of the last few days because it took us by surprise. Once you get past that surprise and look forward positively to the future, all things are possible."
When asked how it felt to roll a friend, Dr Brash said that in politics you sometimes had to put personal relationships to one side.
"People said that's not normally done. You normally gather in a dark room with notes and a knife. But I think there's merit in having the country itself express a view."
He was expecting to attract financial backers, but "I have none of that lined up".
The change was met with scorn by Labour leader Phil Goff, who said it would result in "a new extreme-right-wing deal" which National would use to pursue "all the policies it has wanted to pursue but has been afraid to admit to so far".
United Future leader Peter Dunne said it should scare voters on November 26. Giving influence to Dr Brash would result in New Zealand becoming "a harsher, more brutal place".
- Additional reporting: Derek Cheng and Adam Bennett