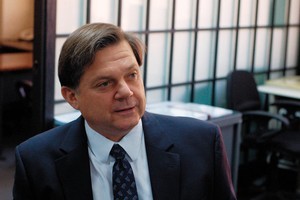 New Zealanders need a new vision for their future that includes a sense of true economic reality. Longing to return to the credit-fuelled unreality in which the country found itself three years ago will only prolong the current suffering from the impact of the global economic crisis.
Failing to see New Zealand as a southern Asian economy is to miss one of the greatest shifts in economic power in history. Without compromising its unique values and independent culture, New Zealand must now embrace Asia, and in particular China.
Instead of drawing closer to the Chinese economy, New Zealand is beginning to pull further away. New Zealand cannot afford to take the same view as the United States and much of Europe that China's rise will only continue at the expense of the West. On the contrary, China's rise offers New Zealand one of its few opportunities to come back from the brink of a second recession that would be deeper than the one it has just experienced.
Recent Chinese bids for New Zealand assets have resulted in negative public reactions, exposing strains of xenophobia toward Chinese people that run deeper than most New Zealanders would care to acknowledge.
There was no public outcry over the recent sale of 11 dairy farms totalling 3600ha to German interests. New Zealanders are not perturbed that foreigners who to some degree resemble themselves are buying agricultural land and companies.
New Zealand not only needs Chinese companies to invest in New Zealand state-owned and private assets to make the money necessary to help drag New Zealand back from the fringe of insolvency, but also needs such transactions in order to form partnerships and build businesses in China, a market that remains one of the only relatively balanced economic growth stories in the world.
New Zealand's traditional links to trade with Europe and the United States are still important, but strategic growth opportunities lie in Asia, and particularly in China.
Even the recent Australian economic story is largely a reflection of China's; Chinese demand for resources has been the major factor in Australia's sustained growth throughout the recession.
China-watchers have become increasingly concerned at the rising levels of inflation in China and refer to this as a reason to limit exposure to the Chinese domestic market.
Such thinking is beginning to influence business planning in New Zealand. As China is New Zealand's second-largest trading partner and the world's second-largest economy, economic instability in China would have a profound impact on New Zealand's economy.
China is not, however, dealing with unmanageable levels of inflation.
The People's Bank of China will manage to hold inflation below 5 per cent this year through, for example, credit controls, interest rates and allowing the currency to appreciate slightly faster than its present pace.
Although food is one of the real drivers of inflation globally, in China inflated food prices have resulted from speculation fuelled by a combination of easy credit, innate imbalances in the supply chain and, to a significant extent, the weather. Closer governance and a reduction of costs in the supply chain over the past few months have actually reduced China's key food indicator, vegetable prices.
The general standard of urban life is improving in China, and therefore wages and prices must rise.
After years of suppression, increases in industrial workers' salaries last year were followed by increases in civil service and military salaries by as much as 20 per cent. The strength of the Chinese economy and the continued, largely positive dynamic of urbanisation, which sustains domestic economic growth, will continue for decades.
Certain other New Zealand assumptions, such as that China is inherently socially unstable, are also misplaced. In a country in which the forums for expressing dissent are few and the price of such expression is high, there are frequent demonstrations of frustration and anger over social and economic injustice, but the struggle for change in any country is usually motivated by deep economic, rather than civil or strong ideological, concerns.
It was primarily sharp increases in bread prices and plummeting standards of living in North Africa that sparked the current uprisings there.
A severe, sustained economic downturn in China would potentially become a catalyst for social unrest, but Chinese people have a generally positive view of their Government and the economic direction of the country.
A fundamental strength of the Chinese economy is the extent to which it is modernising and becoming more sophisticated, creating increasing demand for quality products.
For generations the Chinese have endured privation and injustice, making them strong and able to adapt to rapid change that is fuelling high aspirations in a new era of wealth and unprecedented upward social mobility. It is these dynamics that offer New Zealand companies so many opportunities.
In 2000, 23 million Chinese people used the internet and by the end of 2010 there were in excess of 450 million users. New Zealand companies have the potential to bypass the traditional, expensive, labour-intensive paths to the Chinese market and access consumers directly through internet sales.
As cities become increasingly congested and the lives of their residents more hectic, rather than struggle across a city to visit a department store, urban employees tend to use internet shopping websites such as Taobao.
In 2010 Taobao averaged 48,000 transactions per minute.
Even smaller New Zealand companies could take advantage of this virtual market.
Hot idea
It is too easy to harangue the New Zealand private sector for the failures and the current predicament of the New Zealand economy.
Small- and medium-sized enterprises (SMEs) make up the majority of businesses in New Zealand, as they do in most developed economies, with the difference that few SME cultures are as isolated and starved of capital as that of New Zealand.
Part of the solution might lie in establishing a microfinance culture as employed in some developing countries and the collective corporate borrowing in China.
A number of SMEs in one sector could join together and borrow from an industrial microfinance company, each cross-guaranteeing the others' loans. This works in places like rural India, where small businesses borrow and guarantee loans of a few hundred dollars.
Interest rates are low as defaults, and therefore perceived risks are also low. In New Zealand the loans would amount to hundreds of thousands or a few million dollars.
A microfinance company could be Government-seeded, but would predominantly raise funds from and be governed by the private sector with a degree of Government oversight.
A part of the approval criteria for any loan could include the requirement that the companies would work collectively in specific markets crucial to New Zealand's long-term economic future.
These would primarily be Asian, and China would certainly be foremost in any strategy.
China insight
New Zealand is a country with innovative, tenacious businesspeople. The best are undeterred by early failures and obstacles and have unique abilities to deal with crises. There is, however, a fundamental passivity here. It does not help that business is considered a slightly unsavoury endeavour by many New Zealanders, who still look to Government to provide economic solutions and even social vision.
While Government must create the best environment possible for economic endeavours in order for national aspirations to be realised, the vision itself can only come from ordinary New Zealanders.
- David Mahon chairs the advisory board for NZTE's China Beachheads programme