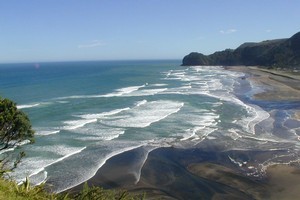 It is footage that has divided the nation - a fierce confrontation between a veteran surf school coach and a high-profile lifesaver trying to pull "terrified" school children from the waves this week.
But emerging doubts about how television presented the story are raising new questions: how real is reality TV?
Surf lifesaver Duncan Clarke had just reached home at 5.30pm when the phone rang. It was the producer of Piha Rescue, the top-rating TV One reality show on which Clarke has starred for the past six years.
The producer told him that Aramis Goodwin, an independent cameraman and lifeguard who lives at Piha, had spotted 10 to 15 people in difficulty. He needed lifeguards for an urgent rescue.
As Clarke dashed to his car, he says, his cellphone beeped with a text message alert. "PIHA SOUTH URGENT CALLOUT," it read. "15 PEOPLE IN RIP."
The Surfcon pager system is activated by a 111 call from a member of the public, Clarke says. It would have been sent to around 15 off-duty lifeguards in the area.
Arriving at the beach, Clarke found Goodwin and another lifeguard had already opened the surf clubhouse and prepared an inflatable boat, ready to go. Goodwin had been doing another filming job and had his camera gear with him. He grabbed the camera and jumped in the inflatable with the lifeguards.
When the boat got to the group of teenagers, Clarke counted 11 surfers in the water, led by surf coach Phil Wallis.
"Ask anyone out this way about a 3m swell and onshore winds and they'll tell you you'd never in your right mind put a child in there, let alone a whole group of kids, some of whom had only had a few lessons," says Clarke.
But Wallis and his 19-year-old son Zen, who was helping coach the Henderson High School group, were not happy to see Clarke.
As Clarke grabbed one of the boys' arms and tried to pull him into the inflatable, Wallis grabbed the other arm. "Don't you dare touch him," Wallis shouted.
By the time the film was shown of the rescue attempt, on both One News and 3News' evening bulletins, 48-year-old Wallis was painted as an unskilled risk-taker, who had taken nine "children" into dangerously wild and riptorn seas at Piha.
Clarke, the designated "hero", didn't come off much better. He appeared to some viewers to be stoking the drama by his aggression towards Wallis as he fought to pull a teenager from the sea.
Clarke doesn't know how the footage got to both TVNZ and TV3 newsrooms, but he wasn't happy to see himself so wound up on the news. He describes the week as one of the worst of his life, and says he wants to put it behind him. But Clarke does say: "Piha Rescue has never let the camera influence what we do, as that would be playing with people's lives, which would be dangerous and unprofessional.
"What concerned me about what the public saw was the fact that they did not see the lead-up to the rescue. If they had, there would be no debate about my actions."
This was undoubtedly terrific television: a desperate rescue captured on camera as it took place on one of the wildest beaches of New Zealand.
But Wallis, who has been coaching school children at the beach for the past eight years and did a similar trip just three weeks ago, insists the teenagers were never in any danger. He says the boy rescued so daringly by Clarke had been with Zen, a qualified instructor and among New Zealand's top 20 competitive surfers. Zen had said "we're sweet" when asked if the boys needed help.
Wallis, too, wants to draw a line under the episode, and has not spoken publicly. But he believes the footage was "a set-up" and has fired off a legal letter to TV3 over what he regards as skewed and inaccurate news coverage of the event, after a 3News report about Department of Labour inquiries into the surf lesson.
So who called the coastguards to claim the teenagers needed rescuing? Why did the camera man just happen to be there? Was the testosterone and adrenaline hyped up to create drama in a situation where there was none?
And how did the footage make its way to both television networks?
South Pacific Video Productions producer Eric Derks,who makes Piha Rescue for TVNZ, did not respond to calls. In fact, TVNZ says it hasn't been able to contact him - even though the network pays his bills.
Both TVNZ and TV3 say they had not paid South Pacific Video for the footage. Indeed, TV3's head of news, Mark Jennings, refused to say who had shot the footage."We protect the identity of all our sources of information and vision," he says.
But TVNZ spokeswoman Megan Richards was able to tell the Herald on Sunday that a cameraman who worked for Piha Rescue had been at the beach on an unrelated job when he saw the children and raised the alarm.
"Two lifeguards were called to the scene," she says. "The footage was offered to TVNZ and TV3 by South Pacific Video Productions which produces Piha Rescue, on the grounds that it was used in a news programme and not run with the programme's logo as it had not been filmed for the show."
So, in short, the Piha Rescue cameraman made the phone call saying the teenagers were in danger, then waited on the beach and jumped in the first surf lifesaving inflatable. He filmed the attempted rescue and subsequent clash - then provided the pictures through South Pacific Video to both news networks.
All that begs a far bigger question: "How real is reality TV?"
"All of us live reality, moment to moment," says Tony Manson, TVNZ's factual entertainment commissioner. "But unedited, real life would mostly make for dull viewing. The question to ask is how accurate is the reality portrayed?
"Programmes that are more accurately described as observational television series, like Motorway Patrol, Border Security, Animal House and Piha Rescue involve filming then editing real-life situations so in that sense they are 'real'," he says.
"But even in a constructed TV format the producers cannot preordain or control people's responses and emotions."
In the past two decades, growth in reality formats has outstripped movies and game shows. In New Zealand, nine of the top 10 rating series last year across all networks were reality shows, Manson claims. The 10th show was Fair Go. All were on TV One, he says.
The Piha incident provoked a welter of comments from viewers on the internet, some supporting Wallis, others siding with Clarke.
But where does the truth lie? The only certainty is that the average viewer will struggle to find out.
For in this world of reality TV the prime function is to entertain the audience. Education or information comes a distant second, according to Julie Christie, the recognised queen of the genre who pioneered it in NZ with programmes such as Changing Rooms, Treasure Island and Game of Two Halves.
"You put framework into it, you make people compete, or you put something in there to disrupt their lives and see how human nature behaves," said Christie, chief executive of Eyeworks production company, in an interview late last year.
"We can't live without unscripted television. What are we going to fill our televisions with? It's cost-effective, it's exciting and the viewers love it."
In another interview with the internet's Throng TV, also last year, Christie - who once inadvertently set fire to a contestant, Mahesh Muralidhar, in a bid to stoke drama - went even further. "TV is primarily entertainment. Imagine working on a production line and coming home and being bleated at by a pile of worthy documentaries."
Being worthy, she suggested, was not a way to boost viewing figures.
The growth of reality and drama- documentary appears to be relentless, with programmes such as MasterChef, Biggest Loser, and Idol increasingly dominating the ratings.
But how much is fake, and how much can we believe of what we see? Only last week, MasterChef producers admitted to the Herald on Sunday that they had cooked up a fake courgette crisis, deliberately under stocking the vegetable at judge Simon Gault's fine-dining Euro restaurant in Auckland's Viaduct Harbour and sending finalist Michelle Berry to buy more of the vegetables from Countdown.
The move generated more tension in the programme as Berry raced to acquire new supplies, but it also exposed another disturbing and growing trend in dramas and reality TV: product placement. In this case it was the Countdown supermarket.
It would have been easier for Berry to buy from the big New World supermarket at nearby Victoria Park. But Countdown is the show's major sponsor. It's an effective way for advertisers to promote their wares in an age when viewers increasingly ignore, or fast forward through, more conventional advertising breaks.
But how much are we aware of the tricks producers may employ to beef up the drama? Have they selected contestants for their ability as well as the potential conflict they will have with each other? Have they edited the episodes to heighten drama at the expense of presenting the (probably duller) version of what really happened?
Graham Bell, the 64-year-old presenter of another hugely successful reality drama, Police Ten 7, believes producers need to learn when to draw the line when it comes to creating drama and that many underestimate the intelligence of their audience.
Formerly Detective Inspector in charge of Criminal Investigations for the Bay of Plenty Police District, Bell had 33 years of successful crime solving under his belt before he retired from the force and accepted an offer to present the programme in 2002.
"There's a misapprehension among some producers as to the intellect of their viewers," he claims. "I hate what I see as the dumbing down of television. And I think the reality TV genre has extended too widely into info-tainment.
"Our programme is probably unique in that it is a hybrid between reality and service TV. It gives the public the chance to help solve crimes and they love that.
"That's not to say there is no music to add dramatic effect. But I have always been very uncomfortable with programmes adding drama and have had discussions with our producers on some occasions. If I don't think something is appropriate, or pushes the boundaries I say 'no, I don't want that'."
The show does have what Bell refers to as a "scumcam" to show the offender's point of view. But he says most of the drama comes from fly-on-the wall footage.
"Our show works because New Zealanders love looking at themselves, they are very concerned about crime and they love the chance to help solve it," he says. "It's simple."
Sue Woodfield, commissioner of factual entertainment at TV3, says it is sometimes helpful to think of the divide between drama and reality TV as being scripted (shows such as The Almighty Johnsons and Outrageous Fortune) and unscripted (everything from one-off documentaries to observational documentary series such as The Secret Lives of Dancers and formats like New Zealand's Next Top Model).
"Much popular television is the evolution of the traditional observational documentary," she says. "It is very popular, because people are interested in other people and the world around them. In the same way that people have always stopped to look at a gathering crowd, they can now do so from the comfort of their own home.
"In terms of content selection and the editing process, making a programme is a bit like editing an article for a newspaper. You select what's relevant and structure it in a way that is clear and hopefully makes sense to the audience."
In newspapers and magazines, however, there is perhaps less scope for invention-despite research showing that the public has traditionally believed more of what they see on television than what they read.
After nearly half a century of having our recreational lives dominated by the small screen, this could be about to change.
Martin Hirst, head of journalism at AUT University, doesn't subscribe to the popular belief that there is an insatiable appetite for reality TV among viewers.
He thinks that initial public interest has fed a spiralling diet of so-called "reality" that now leaves its audience with fewer viewing choices.
Reality TV is now almost wall-to-wall, he says, focused on voyeurism or vicarious dangers - such as programmes pandering to fear about things like border security. "The viewer in this case is left with the impression that without these people working on the thin blue line with their dogs we'd be overrun by terrorists.
"I don't know that reality TV does any good at all. I think the danger is, with the dramatic filming techniques and the heart-racing music, it sensationalises things and creates a false sense of danger or fear." He says a huge amount of preproduction and scripting creates the drama.
"I don't believe much of it is real. But I think producers are not yet aware of the way in which the public is increasingly seeing these shows. My wife and I watch Idol, but we turn down the volume and don't listen to the judges. We talk through that bit and just discuss our own views of the performances.
"Producers should be careful not to underestimate the growing media literacy of their audience."
Hirst does not believe that our interest in reality TV has diminished our appetite for serious news, but says the boom in reality TV shows has affected our news diet.
"When you see the international news pages dominated by the goings on of Paris Hilton or stories about where [Italian Prime Minister Silvio] Berlusconi has had his dick getting more prominence than the situation in the Middle East, you realise how much the media has been changed."
Back at Piha beach, locals just want the furore over last week's rescue to go away. An online survey of the community conducted a few years ago showed that while most thought the filming of Piha Rescue at their beach was a positive thing, many were heartily sick of the way their piece of natural paradise was portrayed.
Yet Wallis, one of the men at the centre of last week's fracas, remains a cautious fan of reality shows-even at the beach where he continues to work. "Producers might get down low with their cameras to make 60cm waves look like 1m waves," he says. "They might well add to the drama in ways that most of us don't even know. "But if the show educates one person about the dangers of the beach, or stops one person from drowning, that can only be a good thing."