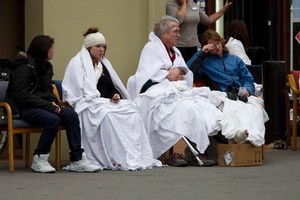 Injured residents are tended to in the carpark of a 24-hour surgery on Bealey Avenue in Christchurch after the 6.3 earthquake. Photo / Simon Baker
The Accident Compensation Corporation (ACC) has received almost 6000 claims as a result of the Christchurch earthquake and estimates the final cost will be $200 million.
ACC minister Nick Smith said ACC estimated the final number of claims would be around 7500.
As of this morning, it had received 5,907 claims for quake-related injuries. They included six amputations, 183 head injuries, 47 burns, 419 neck injuries, 437 fractures, 1010 lacerations, and more than 3000 soft tissue injuries.
It was the largest single event ACC had ever paid out for and despite the cost, he hoped it could be met without further levy increases.