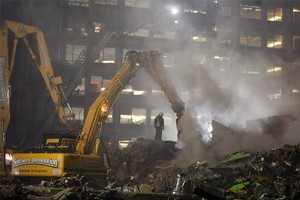 Wearing a hard hat and fluro vest, Maurice Gardiner spent a horrendous night outside the Canterbury TV building in central Christchurch, where he fears his sister Donna is buried in rubble.
Mr Gardiner told TVNZ he was ready to lend a hand in the rescue operation, as soon as he was allowed.
While six people had been in touch from the rubble, his TV presenter sister was not among them.
"We know that if one of them was Donna, we would have heard. We wait and see, we really do," he said.
"What we have heard is that they're not releasing anything from the coroner and Donna's name doesn't appear on any lists at this stage."
He said he was intending to help shortly.
"We come here to do what we can do," he said, his voice choking.
His sister, who has two children, was well liked and well known through the city, he said.
"We just want her home. We just value the prayers of people, if you are a praying person just remember there is power in that."
"We hope for the best but prepare for the worst."
- NZPA