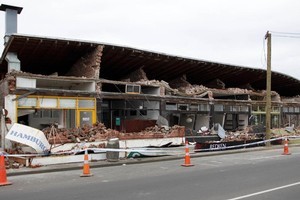 Today's 6.3 earthquake in Christchurch has awoken memories of the devastating magnitude 7.1 that struck at 4.36am on Saturday, September 4 last year.
Last year's earthquake shocked an area that has never been considered prone to tremors.
It was measured 37.3km from the centre of Christchurch at a depth of 10.95km compared to today's 6.3 quake which was 5km deep and less than 10km from the CBD.
Nobody died in the September 4 quake, but power was severed, historic Christchurch buildings came crashing down and aftershocks rattled locals for weeks afterward.
According to Geonet more than 4300 aftershocks have rocked the Christchurch area since the September 4 earthquake.
The event made headlines around the globe, and thousands of people from around the world donated to help those affected by the disaster.
The event was likely to rank as the fifth most costly quake ever globally for insurers, with the total cost estimated at $4-5 billion. That figure will no doubt increase drastically after today's events.
More than 80 per cent of households affected by the quake filed insurance claims.
At the time thousands of buildings needed to be demolished and rebuilt or repaired, however there are reports today that some of those buildings have collapsed again.

But in the midst of those trying times, stories of heroism emerged - ordinary people, like dairy owner Suresh Patel, who threw open the doors of his shop and let people take what they needed regardless of whether or not they could pay. Patel was one of the Herald's New Zealanders of the year.
Check out some of the most enduring images from the September 4 quake.
- NZ HERALD STAFF