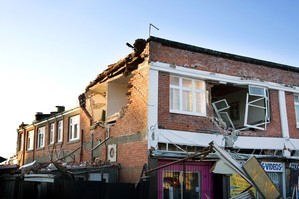 Donations have poured in from corporations, New Zealanders and people from as far away as Britain for Canterbury residents.
From today the New Zealand Red Cross Canterbury Earthquake Commission will offer one-off emergency grants to people unable to live in their homes because of structural damage.
Eligible homeowners are those who have been issued with either a red card building inspection certificate from a council-appointed inspector or a yellow card, specifying the building cannot be lived in until repairs are made or that a structural engineer has made an inspection and concluded that it is unsafe to live in the premises.
Amounts will vary depending on how many usually lived in the home at the time of the earthquake. One-person households will receive $1000. Those with two adults could get $2000 and those with more than two adults or with children under 16 get $3000.
A large number of corporations have made significant donations. Fletcher Building, New Zealand's largest building company, donated $1 million.
ASB Bank pledged $500,000 and launched a Canterbury Colleague Support Fund, matching dollar for dollar donations from its staff. Vodafone New Zealand has given $250,000, Vodafone Fiji has pledged F$10,000 and Vodafone Foundation Australia has donated A$10,000.
Herald publisher APN News & Media has launched a nationwide earthquake appeal, kicking it off with a $100,000 contribution. Microsoft has donated $50,000 to the Red Cross Christchurch Earthquake Appeal. Gull Petroleum donated $10,000 and InterCity Coachlines has given $5000.
Mainpower, North Canterbury's electricity company, donated $100,000 to the Waimakariri Mayoral Relief Fund, which has been virtually emptied by immediate cash grants.
How to donate
* Make a secure online donation at www.redcross.org.nz or call 0900 33 200 to make an automatic $20 donation.
* Vodafone FreeTxt: 'Quake' to 333 for a $3 donation, or 'Quake' to 555 for a $5 donation.
* Go to any Post Shop Kiwibank, ANZ, National, ASB, TSB Bank and BNZ branches around New Zealand.
The Canterbury earthquake relief fund has reached nearly $10 million.