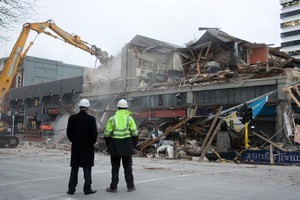 Canterbury's massive September 4 earthquake and subsequent aftershocks are likely to rank globally as the fifth most costly quake ever for insurers, Earthquake Commission (EQC) chief executive Ian Simpson says.
The EQC has received 160,641 claims following the magnitude 7.1 quake - 157,071 claims relating to the initial quake and the rest to two main aftershocks, on October 19 and November 14. The claims came from Invercargill in the south to the Tasman district in the north, but the bulk were from Christchurch.
"The total number of claims will reduce as we sort through them and weed out duplicates and the like," Mr Simpson said.
"There are likely to be numerous place marker claims, which means claims lodged where no obvious damage exists but could be found on inspections and assessments after the deadline."
The 160,641 claims separated out in to about 220,000 part-claims for contents, buildings and land.
"The world's most costly insurance event ever - Hurricane Katrina at US$71 billion (NZ$90 billion) - generated around 600,000 claims," he said.
"The Canterbury earthquake is likely to rank globally as the fifth most costly earthquake event ever for insurers."
The EQC had paid out nearly $450 million on 35,667 building claims, 25,008 contents claims and 11 minor land claims.
"Claims assessments and settlements are continuing at pace," Mr Simpson said.
"We have now settled 20,799 claims, completed assessments for an additional 18,804, and are currently assessing a further 22,158. The total of these of 61,761 is considerably more than a third of all claims received.
"This may give some comfort to the many thousands of people with property damage we have yet to assess."
However, a surge of last-minute claims meant the EQC would probably not meet its target of settling all claims under $10,000 by Christmas and completing all assessments by March, he said.
- NZPA