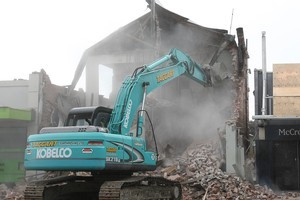 A report detailing the nature and extent of land damage during September's massive earthquake will be sent to Canterbury homeowners today, as a banker says the total cost will be nearly a billion dollars higher than Government estimates.
The Earthquake Commission (EQC) today released stage two of the Tonkin & Taylor land damage report, sending more than 22,000 information packs to affected households.
The packs contained individual letters, fact sheets, question and answer documents and flowcharts explaining the detailed suburb-by-suburb engineering assessment and strategies for repairs.
The Earthquake Commission's Stage 2 geotechnical report assessed the quake damage to 22,500 properties around Canterbury.
It classified 3,300 properties as 'Zone C', meaning they have suffered major damage from land liquefaction and shaking.
Many of those properties will need to be completely rebuilt or undergo large scale repair work, the report states.
It also describes how the cracked and shifted land around the damaged houses could be stabilised.
"Zone C is the land which has generally suffered very severe or major land damage, or is close to the areas of major remedial works."
"In these zones a more coordinated and strategic approach is recommended to repair the land and to allow more robust reconstruction of buildings and infrastructure."
Houses on the banks of the Avon River in Christchurch were hit hard by the quake, the report shows.
They suffered heavy damage from the soil near the river liquefying and shifting their foundations.
Large area of the suburbs Burwood, Dallington and Richmond are classified as severely damaged.
Widespread land liquefaction also hit dozens of houses in North and South Kaiapoi.
The first repairs to the significantly damaged 'Zone C' houses are expected by August 2011.
Repairs to the 19,200 'Zone A' and 'Zone B' properties with minor or moderate are able to start now, the report states.
Some "older, well established" houses are not covered by the report's recommendations, as it would require what is described as impractical and unnecessary large scale demolition.
The packs were mailed out as Goldman Sachs & Partners NZ in Auckland estimated that the nation's worst earthquake in eight decades may cost as much as $4.9 billion, with repairs taking four years to complete.
Economist Philip Borkin said the bank's damage estimate was nearly a billion dollars higher than Treasury's provisional $4 billion forecast because of damage done by aftershocks following the initial magnitude 7.1 quake.
More than 138,000 damage claims have been lodged with EQC, which said about 3300 properties were on land that needs to be stabilised (zone C), and in some cases protection such as underground retaining walls would be required before rebuilding could start.
For a further 5500 properties in zone B, land damage could be fixed on a "section-by-section" basis while the building repair was carried out, according to the report, which mapped about 22,500 sites overall.
EQC chief executive Ian Simpson said rebuilding on the 13,700 properties classified as zone A could begin immediately.
Earthquake recovery minister Gerry Brownlee said the report gave new certainty to Canterbury homeowners.
"For the majority of property owners, the recovery process is relatively straightforward and the repair process can start now."
Mr Brownlee urged Cantabrians to lodge damage claims with the Earthquake Commission before a cut-off date on Saturday.