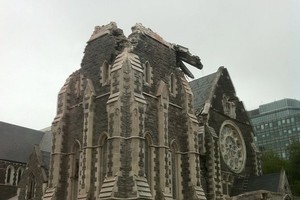 The Dean of ChristChurch Cathedral says the partial destruction of the iconic building in today's massive earthquake is unimportant in light of the great human cost the disaster will incur.
The Anglican cathedral in the heart of the city was largely destroyed in the 6.3 shake, the spire reduced to rubble and the roof caved in.
Dean Peter Beck said there were visitors inside the building when the earthquake hit, and it could not be confirmed whether anyone was still trapped beneath the rubble.
"We just don't know if there were people underneath so all we can do now is just pray and wait while the emergency services get in there. We just don't know.
"It is devastating about the cathedral but the most important thing at the moment is not the buildings, it's the people, and we've got to reach out to each other here in Christchurch and Canterbury and do what we can to deal with those who are wounded, those who have been killed and their families.
"People are traumatised here. This is a major, major disaster - again - and what we have to do is reach out to one another and support the emergency services in any way we can."
Mr Beck said it was too early to say whether the cathedral, which was more than 100 years old, could be rebuilt.
- NZPA