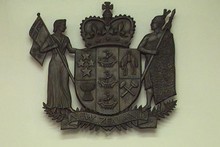 A mother who lost her baby during a difficult childbirth has told an inquest she blames the midwife for his death.
Linda Barlow lost her son Adam after being in labour for 15 hours at Waikato Hospital in October, 2009.
The last thing she remembered before she fell unconscious during the birth was saying the Lord's Prayer in her head, One News reported last night.
Mrs Barlow suffered a stroke and a heart attack and needed 54 units of blood.
When she awoke, her husband, Robert, told her Baby Adam had not survived.
"My next question was, 'can I have more babies?' to which Robert had to tell me I'd had a hysterectomy," she told the Hamilton District Court yesterday.
Mrs Barlow blames the 23-year-old midwife who told her to go home from the birthing centre after her waters had broken.
The couple had requested an experienced midwife who could manage a multitude of complications because Mrs Barlow had difficulties with the birth of the couple's first child, Orry.
It was only after Adam's death that they were told their midwife had been qualified for seven months. The inquest is set down for two weeks.