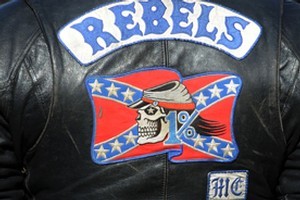 New Zealand police will be on guard against letting any Australian gangs set up shop here, Police Minister Judith Collins says.
The Rebels MC, Australia's largest outlaw motorcycle gang with a reported 2000 members, has been looking to expand into New Zealand, she said. The Australian government considers them a criminal organisation.
The gang is involved in serious violence, and the manufacture and trafficking of drugs, according to New Zealand police.
"A very clear message needs to be sent to crime gangs from Australia and elsewhere that they are not welcome in New Zealand," Ms Collins said.
"Efforts by these gangs to set up shop and begin their criminal activities in New Zealand will meet with a very firm response from police and Ofcanz (the Organised and Financial Crime Agency) who will work with other government agencies.
"Efforts by this Australian gang to gain a foothold on this side of the Tasman underline how crime gangs are now big businesses with connections all around the world."
She said the Government had taken a hard line against gangs and gave police new powers to intercept gang communications, dismantle gang fortresses and seize property from criminals.
"Police and Ofcanz have my full support to take whatever steps are necessary under the law to ensure that overseas crime gangs are made to feel as unwelcome as possible."
Detective Superintendent Brett Kane, of Ofcanz, said police had known for several months the gang wanted to set up a chapter in New Zealand.
He said Wanganui police had started the process to have the Rebels designated as a gang under the local bylaw. If that succeeded, they would be added to the list of gangs under the bylaw which stopped the wearing of gang patches.
"OFCANZ and police in all districts will be very proactive in policing members of this gang. Rebels gang members have been sighted in a number of localities throughout the North Island recently and been the focus of police attention already," said Mr Kane.
He said they were wearing Rebels patches, were well known to police and had been members of another outlaw motorcycle gang in New Zealand.
Earlier this week, police dealt with more than a dozen patched Rebels members near Auckland Airport.
"At the same time an Australian Rebels member trying to get into New Zealand was turned around upon arrival at Auckland International Airport and sent back to where he came from.
"They will continue to be the focus of concentrated law enforcement attention as we intend to disrupt their plans to establish this gang here,'' Mr Kane said.
"We don't intend to put a welcome mat out for these people."
- NZPA