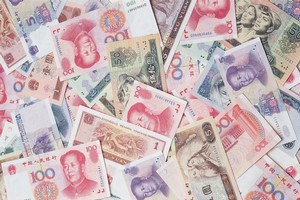 New Zealand has a strong appeal for rich Chinese people who want to move here as investor migrants.
Two have been granted conditional residencies after investing more than $10 million each in "approved investments" and 43 others - more than from any other country - are waiting to be granted approval or have received approval in principle to transfer more than $1.5 million each.
Acting head of Immigration Jan Clark says the department has also given approval to a third Chinese investor to transfer money.
Immigration Minister Jonathan Coleman said the business migration scheme had attracted $416 million of potential investment capital to New Zealand.
So far, more than $102 million has been transferred and invested here and $133 million has been approved for funds transfer.
Applications worth another $181 million are being processed.
"We developed a policy package that makes New Zealand very attractive to business migrants, and they're staking their confidence in New Zealand at a time of difficult international financial conditions," Dr Coleman said.
When the scheme was introduced, many would-be investors from China claimed Immigration's recognition of money transfers only through the banking system was blocking them from investing in New Zealand because of China's strict money transfer rules.
A licensed immigration adviser said the two successful investor applicants had transferred their money through Hong Kong to get around the rules.
"Their nominated funds are in Hong Kong, and it is easy enough to use the Hong Kong banking system to transfer the money here," said the adviser, who did not want to be named.
He was advising his other Chinese clients to use similar means to move their money if they wanted to apply for New Zealand residency.
"It's a bit of a hassle and takes longer, it's a pathway they can use," he said.
"For example, the Chinese can buy properties in Hong Kong, liquidate the funds and then transfer the money over."
However, the New Zealand Association for Migration and Investment advocacy and policy chairman Jimmy Lee said New Zealand's business migration policy still discriminated against the Chinese.
The association has made a written submission to the Department of Labour, which oversees Immigration, asking it to review its business migration policies.
"From the Immigration figures, we know the Chinese hold the key to how successful the policy will be," Mr Lee said.
"There should be a total review of the business migration policies if the Government is serious about wanting more investor migrants."
Immigration adviser Ming Tiang, who runs Chiwi Immigration Services, says he has at least 10 Chinese clients, with between $1.5 million and $10 million to invest, who could not meet Immigration's "bank transfer only" requirement.
INVESTOR 1
($10 million+ investors)
Number of applications approved by country
2 - China, US
1 - Finland, UK, Singapore, South Korea
INVESTOR 2
($1.5 million+ investors)
9 - US
2 - UK
1 - Japan, Singapore, South Africa
APPLICANTS
Approved in principle/under process (top three countries)
43 - China
35 - UK
19 - US
Source: Immigration New Zealand