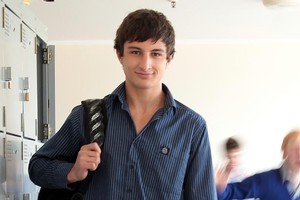 To find out what lies ahead in 2011, the Herald on Sunday consulted New Zealand's highest-ranked Vodou priest, Liam Richard-Howes, of Palmerston North.
Forget sticking pins in dolls and encounters with zombies, Richard-Howes, 32, says Vodou, formerly known as voodoo, is about calling on the spirits for readings and "magical work".
With the help of a special gourd shaker and prayer to summon the spirits, Richard-Howes consults tarot cards to discover a mixed year, with fewer natural disasters, but the death of a prominent New Zealander.
Last year's cards included broken bridges and walls - no doubt reflecting Christchurch's earthquake and recent floods in the Nelson region - but this year's cards are free of such signs.
"'It's certainly not a bad year ahead. In the early months of the year we are going to have a chance to relax. It doesn't look like we've got any more natural disasters coming our way."
A card called The Star, showing a dragon in the sky heading towards civilisation, symbolised new ideas would take hold.
"There's going to be significant political change in the year ahead."
He wouldn't say whether he thought that meant a victory for Labour in the upcoming election, or National changing its focus.
"I think that these changes are going to be implemented slowly and reflectively ... we are not likely to see the real results of that change until the following winter."
The Rugby World Cup will go well but not as smoothly as hoped, he says.
"The one bad thing I see is we look like we may lose a well-known New Zealander - not tragically or nastily, but I think it will definitely be unexpected when it happens, and I think it will be a woman," reveals Richard-Howes.
An initiated"H'oungan Assogue" or high priest in the traditional African religion, Richard-Howes has been involved in Vodou since2004 and has travelled to Haiti three times. He ran the "kiwimojo" website, and believes he is the highest-ranked of the 30 or so Vodou practitioners he knows of in New Zealand.
However, if Richard-Howes' predictions don't sit easy with you, how about considering the predictions of the range of experts and Herald on Sunday writers featured below.

POLITICS
Jami-Lee Ross-the rising star
Age is just a number for Jami-Lee Ross. The 25-year-old has put his hand up to represent National in this year's Botany by-election, which was left vacant after MP Pansy Wong resigned her post last month.
Ross faces two challenges - the first, being selected by the party, then secondly to be elected by the people. If successful, he will be the youngest MP in Parliament.
Ross, despite his relative youth, is already an experienced politician, having served two terms at the now-defunct Manukau City Council and his current role as Super City councillor makes him the city's youngest.
"I suppose it's unusual for a young person to get involved in politics," says Ross.
"The work I did must have paid off because [his ward] re-elected me two times now.
"Age has always to me been a number. Once people see me in action and work with me they realise age is just a number and doesn't affect my ability.
"I actually think my age is a strength-it's quite common to hear from people that we need some young blood."
Ross has also been one of the more vocal members of the Auckland Council, and was a thorn in then-Manukau Mayor Len Brown's side over credit card misspending spending last year.
He's a fan of saying what he thinks: "I don't believe in simply being a nodding head."
Ross says this year will be busy and although he can't say for sure, he hopes to be selected.
"I never take anything for granted in elections and it will be another campaign."
The Botany by-election will set the scene for the next political year, he says.
-Kieran Nash
THE INFLUENTIALS
Dr Bryce Edwards, University of Otago political scientist, picks the politicians and power brokers who will shape how we think about politics in election year.
Steven Joyce-the Government's campaign strategist
He might only be a first-term parliamentarian, but Minister of Transport Steven Joyce has not only shot straight into John Key's Cabinet, but has also become one of the Prime Minister's most trusted advisers, there because of his extremely valuable strategic skills and nous.
His critics see him as an autocrat, his allies see him as the power behind the PM, and the voters who meet him find him down-to-earth and likeable. Joyce could also be seen as a future Minister of Finance and even a Prime Minister.
Hone Harawira - the pivotal force in Maori politics
This year will be crucial for the Maori Party, especially as it navigates what is likely to be the biggest policy issue of the year-the replacement for the foreshore and seabed legislation. At the centre of all of this will be renegade MP Hone Harawira, who will be the pivotal force within Maori politics.
The control of the party is his to inherit, and he will then have significant kingmaker powers in deciding which parties and politicians will govern the country. If he doesn't get his way in the Maori Party, there's a very real chance he will defect to establish a new Left Party with Sue Bradford and Matt McCarten, which will aim to retain his Te Tai Tokerau Maori electorate, avoiding the need for the party to reach the all-important 5 per cent MMP threshold.
Such a party would be a serious shakeup for the system.
David Cunliffe - the key rising figure in the Opposition
With party leader Phil Goff languishing in his role of regenerating Labour's ideology, brand, and credibility, this task is increasingly falling to the ambitious opposition finance spokesperson.
Incredibly talented, Cunliffe might just be able to achieve Labour's ambition of appealing to moderate, centrist voters while also managing to differentiate itself from a rather centrist National Party.
Guyon Espiner-the man leading the media's coverage of politics
Every three years, political candidates put themselves up for election, trying to convince the public of their suitability for office and the merit of their plans for running society. Their messages are filtered through the mass media, who decide what messages we need to be aware of.
In New Zealand, the person with most responsibility for this is the political editor for the most popular television news channel - Guyon Espiner for TVNZ.
More than anyone else, Espiner will decide what stories get to be aired, who is interviewed, how the leaders debates occur, and generally what becomes a political issue.
Kevin Taylor-John Key's Chief Press Secretary
Previously a New Zealand Herald reporter, Taylor is now the top spin doctor in New Zealand politics, and is credited with helping to keep Key's popularity at all-time highs. He's done this by filtering out most of the radical and unpopular policy proposals within the current Government - his nickname in the Beehive is "Captain Panic Pants" because of his extremely risk-averse nature.
This year, Taylor will therefore be making sure that Key and the Government don't put a foot wrong before the public go to the polls.
BUSINESS
David Yu-the visionary
Young businessman David Yu sees a world of opportunity ahead of him. Yu started his first business at 17 - the gaming retail chain Vagabond that now has five New Zealand outlets.
The Taiwanese-New Zealander and James White, his long time business partner, have now turned their attention to promoting Kiwi branded goods. They represented New Zealand at a Northeast Asia trade expo in China in September.
This year, Yu, who is managing director of Retail Management Group, is expanding further into China by acquiring a 35-store cosmetic and skincare chain, which he plans to refocus onto New Zealand branding.
"Traditionally I don't do acquisitions, we grow organically, but this will give us entry into China and the opportunity to instantly gain market share."
He is also negotiating for two European clothing franchises and has in the past few months picked up the franchise for candles and natural fragrance brand Ecoya in Asia.
"Candles, diffusers and fragrances are looking hot in Asia right now."
At the end of this month, Yu will be in Sydney, to inspect a site for his gaming chain. He says his business prospects are well-placed for global expansion.
"Recession has been very good for me, companies like us that are debt-free can sneak up behind the big guys."
"We've been very lucky to get into the emerging Asian market at the right time, it's been talked about for many years and no one was doing anything about it."
Yu says the company will focus on ecommerce more this year also.
"In New Zealand, people are becoming less likely to wait for products to be brought in-they will jump online and purchase it themselves." Yu says it's important to grow at a rate that doesn't dilute the shareholders' value but it is an ideal time to expand for those that can afford it. "2011 is going to be great."
-Edward Rooney
Business commentator Bernard Hickey predicts the country's economic struggles will continue this year, and New Zealanders with money to invest could look to Yu for inspiration.
Hickey says New Zealanders' first priority should be to repay debt, but if they are looking for investment opportunities the best option is to put it into their own businesses. The way to catch up with Australia by 2025 is if New Zealanders build a new export business earning more than $5 million per year every day until 2025.
"There's a challenge for everyone," says Hickey. "This is not some sort of real estate brokerage or dairy. It has to be something that actually makes stuff."
SPORTS
Mitch Evans-rocket boy
Mitch Evans is probably the world's fastest teenager. The 16-year-old, who recently finished Year 11 at Auckland's Saint Kentigern's College, heads to Europe this year to pursue his Formula 1 dream.
It's a long shot for any driver, let alone an Antipodean, but there are many who believe Evans could become the first New Zealander to compete in F1 since Mike Thackwell in the early 1980s.
Australian driver Mark Webber, who finished second in the driver's championship last year, is mentoring Evans and is using his contacts and influence to open doors and the Kiwi is apparently already on the radar of the champion Red Bull team.
"He can go all the way, definitely, he can race Formula 1," says Webber. "It is a sensational opportunity, but there will be lots of hard work and some big hurdles. He has got that same desire and the fire [as I had] to make it. Time will tell, but it is up to him and he knows that."
Last year, Evans took out the Toyota Racing Series and finished second in the Australian Formula 3 championship. He was the youngest driver to win a race and a round of the Australian series.
"I try not to think about the consequences of not making it," says Evans.
"A lot of kids will want it but won't work for it - [whereas] I will make any sacrifice to make sure it happens. It has been a dream forever and some dreams come true."
After defending his TRS title, Evans will race for MW Arden in the GP3 Championship, two tiers below F1 and seen as the natural stepping stone.
The costs involved mean Evans has approximately two years to make an impression and get signed by an F1 team before the funding runs out.
Katrina Grant - netball
Still only 23, the 1.86m defender has racked up more than 30 international appearances. She stood strong in a struggling Pulse team, is seen as a future Silver Ferns captain and will be a cornerstone of the team over the next decade.
Phil Robertson - sailing
With compatriot Adam Minoprio switching to Ocean Racing, Robertson will be our flag bearer on the international match racing circuit after a breakthrough 2010. The 23-year-old has great natural ability and has been compared to a young Russell Coutts.
Chris Wood - football
Wood has already achieved so much. The 19-year-old striker made his English Premier League debut for West Bromwich Albion at 17-the same year he played for the All Whites - and last year played in all three of New Zealand's games at the World Cup.
Jacko Gill - athletics
Gill doesn't look like a shot putter, but the 16-year-old has a freakish ability to be able to hurl a rock stupendous distances.
Last year, at only 15, he became the youngest junior world champion, (a distinction previously held by sprint star Usain Bolt), and beating 18- and 19- year-olds in the process. Last month he set a new world record in the 5kg shot at youth (under-18) level.
Kane Williamson - cricket
New Zealand cricket might not be in the best shape presently, but there is one player who looms as truly world class.
Kane Williamson became only the eighth player in New Zealand history to score a century on test debut last year, and the 20-year-old has the technique and temperament to challenge Martin Crowe as our best-ever batsman.
Sam Webster - cycling
Bike NZ have created a swathe of talented young cyclists but never before have they been so excited about their sprinters. Sam Webster heads the field after winning three junior world titles in 2009 and picking up a silver (team sprint) and bronze (individual sprint) at last year's Commonwealth Games.
-Michael Burgess
ENTERTAINMENT
Madeleine Sami-the chameleon
Nicky Watson is a muse. New Zealand's favourite calendar girl was the inspiration for one of Madeleine Sami's alter-egos on the new show Super City, which will be screening on TV3 this year.
As the show's creator, co-writer and star, playing five characters, one of this country's greatest acting talents has been handed her perfect vehicle to shine.
Sami has already proven her dexterity for multiple roles, winning plaudits for her breakthrough theatre performance in Toa Fraser's hit play No 2. In Super City she plays an ageing promo girl, competitive gym instructor Iranian cabby, wealthy divorcee and homeless girl.
"Making up lots of characters is what comes most naturally to me," says Sami.
She had been working on the idea for some time before Chris Lilley's hilarious Australian mockumentary Summer Heights High hit our screens.
"I was gutted that someone beat me to it and did it so well," she says.
Despite being along similar lines, Sami says her show has more drama mixed in with the comedy. She has had expert help from director and good mate, Taika Waititi, on striking that balance.
Sami says she is hugely patriotic about her hometown, but the show's name is a dig at the newly united city's grandiose title.
"The name 'Supercity', I find it ridiculous for Auckland. It's such a huge name and Super City, the show, is about the little lives that go on inside the 'Supercity'."
Other faces to watch for this year are Temuera Morrison's return to the big screen in Tracker, opposite Ray Winstone, and big budget American action-hero flick, Green Lantern. Keisha Castle-Hughes appears in The Almighty Johnsons, a new TV comedy-drama by the creators of Outrageous Fortune, and Martin Henderson smoulders on medical drama Off the Map, a US TV series by the producers of Grey's Anatomy.
ARTS
The biggest thing to hit the Auckland arts scene this year is not a who but a couple of whats.
The Auckland Art Gallery is revealing the results of a massive three year building redevelopment mid-year.
That long wait seems almost momentary compared with the 14-year fight the performing arts community endured to establish a new theatre to replace The Watershed that closed in 1996.
The curtain goes up on QTheatre's first show in September. The complex next to Auckland Town Hall on Queen St, has a flexiform 350-450 seat theatre, a second performance space that seats 120, a cafe, bar and rehearsal areas.
This year's schedule includes Auckland Theatre Company's production of The Twits by Roald Dahl, performances during Tempo dance festival and events for the Rugby World Cup.
The sporting event is also the deadline or completion of Auckland Art Gallery, which is scheduled to open before the hordes of rugby fans arrive. With 50 per cent more space, the upgraded gallery will have more capacity to display the gallery's 14,000 piece collection as well as host touring shows.
SCIENCE
Scientists must hate Archimedes. Most "eureka" moments come after years of hard graft, not leaping into a bath then running down the street naked with the problem solved. This year's breakthrough scientific developments have been bubbling away for a while and are reaching exciting new stages.
Living Cell Technologies is set to enter phase three in its pig-cell transplant trials. Cells from pigs are implanted into the abdomen of diabetes patients and regulate the levels of insulin in the patient's body, reducing diabetes sufferers' dependence on insulin injections. Last month, the treatment was registered in Russia as a marketable medical technology, meaning it can now be sold to patients. The company is also developing the technology to treat neurological disorders, such as Parkinson's disease.
It's crunch time for high-tech New Zealand inventors who hit the headlines last year but are yet to prove their products can make it at market.
The Martin jetpack was named one of 50 best inventions of last year by Time magazine but is struggling for capital, and Rex Bionics' exoskeleton performs a miracle by enabling the lame to walk but has major competition from overseas.
For its smooth styling and originality factor, the Kiwi invention most likely to take off is the YikeBike. Now inventor Grant Ryan just needs to persuade urban commuters that his electric folding bike can succeed where the Segway failed.
TECHNOLOGY
Gadgetry will continue to run amok, spewing out a voluminous and confusing repertoire of must-have "innovations" that few consumers will find particularly compelling. But unlike 2010, which featured the debut of the instantly ubiquitous iPad and the botched launch of 3D television, 2011 will be more about the way we use our gadgets than adding new doodads to the household clutter.
The next evolution of Apple's iPad threatens to boast an OLED screen for HD-like clarity, just like its close cousin the iPhone 4, and competitors will break out with their own copycat "tablets", but they won't touch the market share of this king of multimedia devices. The real action will come with all the astonishing iPad applications that genius software developers are conjuring in secret labs, thus proving the gadget's truly astonishing transformative ability.
Flash memory will spell the end of bulky and easily damaged computer hard drives for consumers, while hardcore users will gravitate to "the cloud", increasingly storing their key content on shared servers via the internet. Yes, sages have predicted a future cloud wave for years, but this year it's likely to happen while we sleep.
The death knell for conventional music and movie media has already been loudly sounded (anyone get CDs for Christmas?), but the year will see a revolution in interconnectedness, with high-quality (and often wireless) streaming of files from computers and internet to hi-fi and home theatre systems. With service providers already offering streaming or downloadable content, and true high-speed broadband seemingly just round the corner, we could be right on the edge of that previously fictional super-highway.
No mention of Xbox 360 or PS3? Well, Microsoft's Kinect body-motion controller system has proved a massive hit with those who like some physical action with their indoor geekery. It's Kinect's hackability that makes it so much fun for the more technically inclined, and those who relish the opportunities of an "open source" environment.
-Gary Steel
FOOD
Expect exotic Latin flavours on the plate this year. Chef and food writer Paul Jobin says produce from South America is the next big thing in food trends. Jobin's pick is the yacon, also known as a Peruvian ground apple.
This versatile root vegetable, which has the consistency of a nashi pear, can be peeled and grated into salads, made into fritters or cooked as chips.
"It's sweet and luscious," says Jobin.
While still new to the market, the yacon is increasingly available. The climate here is similar to its native South America, which means ideal growing conditions.
Afew years ago, most salads were built on good old iceberg. These days there is a huge range of salad greens of all shapes and colours on offer. That range is about to get bigger - and smaller - with the introduction of new micro greens and edible flowers. These tiny plants add delicate texture and taste. Jobin likes onion flowers and baby sorrel in particular.
It's in with the new and sadly out with the old. The traditional Kiwi lamb will be disappearing off dinner menus this year as a meat shortage, due to savage storms in lambing season, takes effect. Jobin predicts lamb chops will be too expensive to eat at home and restaurants will be forced to remove them from menus.
Another national treat will be sparse this year: a herpes virus has devastated the North Island crop of Pacific oysters.
Instead of focusing on pricey fillet steak, there is more interest in "nose-to-tail cuisine", making use of different parts of the animal.
Jobin predicts big things for pig cheeks. The cut is cheap to buy and when cooked correctly with aromatic herbs and spices, is tender and delicious.
FASHION
Turquoise is so last year. The colour of 2011 is honeysuckle, as declared by Pantone, the US company that sets colour standards for the fashion industry. The pink-red hue is much livelier and bolder than last year's turquoise, which was chosen to calm and reassure during anxious recessionary times.
Taking cues from runways both here and around the world, there is a move away from austere, structured cuts to floaty, sheer fabrics with long, full skirts possibly mirroring relaxing attitudes as the world stumbles out of the global financial crisis.
After a few seasons of squeezing thighs into cigarette pants, a fuller cropped leg is in again and even hippie style flares making a comeback-Adrian Hailwood showed denim flares with patch pockets at New Zealand Fashion Week.
That's not the only 70s throwback fashionistas will be wearing this year. Glam rock faux furs will be keeping them warm-Zambesi's got the shaggiest ones around.
While women's clothing is loosening up, men's looks are getting sharper and preppier. Perhaps it's the proliferation of style blogs applauding the dapper man on the street having an effect. Style icons are the immaculate Kanye West and designer Tom Ford.
Less gentlemanly trends on the horizon include crop tops for men, skimpy swimwear and bold clashing colours.
-FrancesMorton