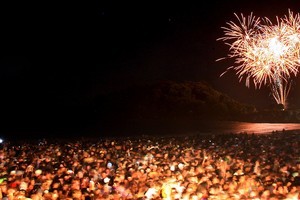 The annual migration to the traditional New Year's Eve hot spots is under way and police are hoping that the weather may play a role in dampening down trouble in some places this year.
Liquor bans are in place and police numbers are being boosted in many of the hot spots, including Whangamata, Mt Maunganui, Queenstown and Wanaka.
"It is overcast with slight drizzle, which for us is fantastic," Waikato District communications manager Andrew McAlley, who is in Whangamata, said.
He said police were so far not dealing with large numbers of arrests but the most common matter, as expected, was breaches of the liquor ban.
This year police are being careful not to refer to the temporary cells at Mt Maunganui as Alcatraz to avoid a rites of passage youth culture about the cells. They are processing centres.
Senior Sergeant John Fookes, of Queenstown, said liquor bans were a great mechanism for "keeping a lid on things".
Queenstown can host between 50,000 and 60,000 people for New Year's Eve and a total of 43 extra police were in the resort town to cope with any trouble as well as extra local staff being rostered on.
Arrests in Queenstown on New Year's Eve varied from year to year to between a dozen or four dozen and there was no way of predicting what would happen this year.
"Our message is come here to enjoy yourself, take it easy on the grog and look after your mates," Mr Fookes said.
Inspector Mike Clement, the area commander for the western Bay of Plenty, will brief media tomorrow on the police operation to support New Year's Eve.
"The focus of our strategy this summer - including over New Year's Eve - is about making people feel safe and reassured on the street, beaches, roads and in their homes," he said today.
Mr Clement said most Western Bay of Plenty Police staff would be working over the peak Christmas and New Year period, supported by additional staff from around the Bay of Plenty District, as well as from other districts.
"We plan to be busy during this period and we have the strategy, the people and the resources in place to manage it. The main unknown for us is the weather," he said.
Police would have a low tolerance to disorder and breaches of liquor bans.
He said liquor ban maps were available on the Tauranga City Council website or in the Summer Passport, as well as the Bay of Plenty Safer Summers Facebook page.
- NZPA