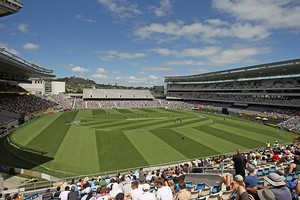 Eden Park is at the centre of another debacle involving sports fans - thousands of tickets to the Boxing Day cricket were rejected at the gate because of a printing error.
Park managers have promised that tickets to future cricket matches at the revamped stadium - which will host next year's Rugby World Cup final - will be tested before they go on sale.
The barcode on more than 3500 tickets bought online for the Black Caps' Twenty20 match against Pakistan carried the date December 20, rather than December 26 - Boxing Day.
Many fans had to wait while stadium staff tried to find out why their tickets were being rejected.
Then officials had to re-scan tickets, leaving irate fans waiting in growing queues.
Eden Park Trust chief executive David Kennedy has now asked for a batch of tickets to be tested in advance through the stadium scanners.
Mr Kennedy said Ticketek was contracted by New Zealand Cricket to distribute match tickets.
"When the tickets were scanned through, they read as being invalid, so that caused delays for people while we worked out what the problem was."
He said the tickets then had to be re-scanned, which caused further delays for other fans who wanted to buy tickets at the ground.
"When the gates opened at 1pm, there was a bit of a queue waiting to get in, so it was a bit of hassle in that first period."
Some cricket fans complained of having to wait more than half an hour before they were able to buy tickets.
The ticket problem is a further setback for the revamped Eden Park before the starring role it will play in the 2011 Rugby World Cup.
Early last month, there were calls for tighter security and more staff at the stadium after some of the 44,500 crowd at a rugby league international double-header fought and hurled plastic bottles and drink containers at players and spectators.
Yesterday, Mr Kennedy promised that tickets for the next game would be tested before they were distributed.
"We'll get Ticketek to print some of them out and bring them in and we'll test them through our scanners."
He hoped more Ticketek staff would be on duty - some cricket fans complained that there weren't enough people on duty to handle the 7000-strong walk-up crowd.
"We probably just needed more staff in the booths selling tickets. That would reduce the queues.
"The other thing we can do is educate the public that there are four gates they can go to. Any one of the gates has got ticket sales and turnstiles to get in."