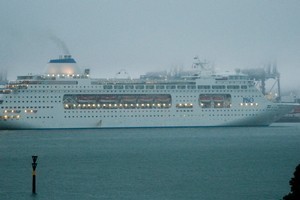 The largest cruise ship ever to be based in New Zealand arrived to a foggy Auckland welcome as it sailed into the harbour at dawn.
P&O Cruises will celebrate the arrival of the 63,500-tonne Pacific Pearl with a public naming festival at Queens Wharf on Tuesday featuring a giant ferris wheel, a fireworks display and performances by Dane Rumble and Stan Walker.

Olympic boardsailer Barbara Kendall will become the ship's "godmother" when she breaks a magnum of New Zealand bubbles on board and food stalls will serve cuisine from Pacific Pearl's restaurants and cafes.
Pacific Pearl is the fourth ship in P&O's fleet and will carry 1800 passengers. It features a swim-up bar, an aerial acrobatics rig spanning the width of its pool deck and a giant poolside entertainment screen.
"P&O Cruises is very excited to bring New Zealand its first homeported superliner - it really is a mark of how much the cruise industry has grown in this country over the past few years," said Ann Sherry, CEO of Carnival Australia, which operates P&O Cruises.
A cruise prize will be raffled on Tuesday with proceeds going to Variety - The Children's Charity in its appeal to help the children of the men lost in the Pike River Mine disaster.
- NZ Herald staff