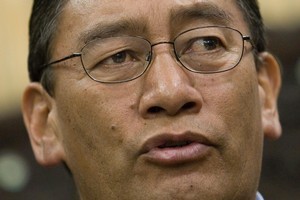 The bill that will replace the Foreshore and Seabed Act is a fraud because 98 per cent of Maori will not be able to meet the threshold to claim customary title, Maori Party MP Hone Harawira has told the select committee hearing public submissions on it.
Mr Harawira is out of step with his party's other MPs in opposing the Marine and Coastal Area (Takutai Moana) Bill, which will repeal the Act and give Maori the right to seek customary title to parts of the coastline through the High Court or negotiation with the Government.
Mr Harawira made his submission today and issued a transcript of it.
He quoted Prime Minister John Key as saying customary title would not be easier to achieve because Maori would have to prove exclusive use and occupation since 1840, and it was not the Government's job to make the test easier.
"Given the hundreds of thousands of acres improperly acquired, and the limitations imposed on Maori to the foreshore and seabed since 1840, the research showing that 98 per cent of Maori will not be able to prove unbroken tenure confirms the prime minister's view that Maori don't stand a chance," he said.
Mr Harawira also had a warning for his caucus colleagues, saying Maori Party MPs weren't elected to "go soft" in coalition.
"We were not elected to accept the crumbs that fall from another man's table," he said.
"We were not elected to meekly accept that which we know to be wrong... this bill is wrong and we were elected to fight against bills like this."
Mr Harawira said the Maori Party's support for the bill was not guaranteed, and backed that by quoting co-leader Tariana Turia saying its position would be determined by the views of Maori.
"Maoridom clearly does not support this bill... it is dog tucker," he said.
Mr Harawira said the Foreshore and Seabed Act should be repealed and an expert group set up to provide better options than the replacement bill.
The Government's position is that if the Maori Party withdraws support for the bill the legislation will lapse and the Foreshore and Seabed Act will remain in force.
The Coastal Coalition, a lobby group which opposes the bill for reasons opposite to Mr Harawira's, said today it was "a massive coastal land grab for Maori" and called for it to be taken out of the control of Attorney-General Chris Finlayson.
Mr Finlayson has previously dismissed the group as "clowns".
- NZPA