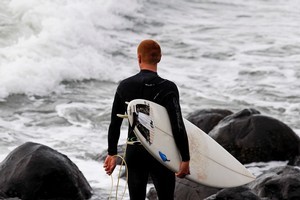 Nineteen world-class surf breaks will be protected by law after Kiwi surfers mobilised against the threat of development.
The nationally important surf spots - 13 in the North Island and six in the South - have been recognised and protected under the revised New Zealand Coastal Policy Statement, which comes into effect today.
Surfbreak Protection Society president and veteran surfer Paul Shanks said he was ecstatic at the recognition.
"It took a lot of work from many people to get to this point, and we are stoked to get a positive result," he said.
"There are still a lot of popular surf spots not protected, and Piha is a prime example, but there is room for these to be protected in the future."
The document states that activities in the coastal environment should not adversely affect the surf breaks, or prevent the use or enjoyment of the waves.
Mr Shanks, of Whangamata, said the spark for his involvement was the highly emotional battle between affluent home-owners and local surfers at his home break.
Surfers felt they were left out of the decision-making on a new marina, which many claimed had ruined the Whangamata bar since opening last year.
The statement came too late to protect consistent waves at the Whangamata break, he said.
But the experience of contesting the development made his society more politically and legally literate, and they took their case to central government.
Recognising nationally important breaks meant surf spots had to be graded on their waves, access and other factors.
The 19 listed breaks were chosen because they ranked 10/10 in the local surfing encyclopedia, the Wavetrack New Zealand Surfing Guide.
Papatowai, at the bottom of the South Island, was graded 8/10 but was included because of the draw of its gigantic waves of up to 12m.
The surfing community will now work with councils to come up with an official grading system.
A board of inquiry also had to grapple with the definition of a surf break so it could be included in planning law. Experts took two months to come up with a definition, which included pinning down the meaning of a "swell corridor" and a "surfable wave".
Of the 500 submissions on the revised statement, 90 focused on the surf breaks of national importance.
Surf breaks which are not on the protected list can still be preserved by regional councils.
The recognition of the surf breaks was not without opposition in the board-riding community.
Some surfers did not want national attention drawn to their treasured spots, fearing it would encourage more visitors or competition.
Surf breaks of national significance:
NORTHLAND
Peaks - Shipwreck Bay
Peaks - Super tubes - Mukie 2 - Mukie 1
WAIKATO
Manu Bay - Raglan
Whale Bay - Raglan
Indicators - Raglan
TARANAKI
Waiwhakaiho
Stent Rd - Backdoor Stent - Farmhouse Stent
GISBORNE
Makorori Pt - Centres
Wainui - Stock Route - Pines - Whales
The Island
COROMANDEL
Whangamata Bar
KAIKOURA
Mangamaunu
Meatworks
OTAGO/SOUTHLAND
The Spit
Karitane
Whareakeake
Papatowai