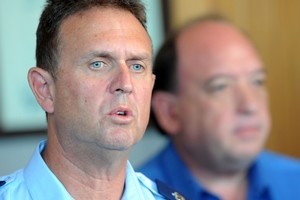 Today's Pike River disaster ranks as the worst national mining disaster in 96 years since 43 coal miners lost their lives at Ralph's Mine, Waikato.
For the last five days the Pike River coal mine has been a scene of uncertainty and today's explosion was the news nobody wanted to hear.
In a way this week's vigil has been different as the nation, and the world, stood by awaiting news that would lift spirits.
At 2.37pm today things changed drastically. Any chance of reuniting the miners with their families was erased when a massive second explosion ripped through the mine.
Police Commander Gary Knowles and Pike River Coal chief Peter Whittall had been in the media spotlight for the previous five days. It fell to these men to inform the families of the tragic news.
Not since the Erebus disaster in 1979 has New Zealand experienced a loss of life on this scale, compounded by intense media coverage.
New Zealand has seen its fair share of mining disasters and today's events will take the death toll to 210 in mining disasters.
The mine, about 46km northeast of Greymouth, is on the opposite side of the Paparoa Ranges from the now-defunct Strongman State Mine where 19 miners died in an explosion in January 1967.
A memorial to the dead men was vandalised this month.
Now 43 years later, the Greymouth community is in mourning again as they grieve the loss of 29 men.
The worst single event was in 1896 at the Brunner mine, about 25km from Pike River and essentially mining the same coal block, where 65 miners were killed in New Zealand's worst industrial accident.
It was believed an unauthorised detonating of a charge in an abandoned section of the mine - the most likely cause - set off a methane gas explosion, killing half the underground workforce.
Traditional mining is highly dangerous - rock falls, explosions and accidents involving equipment were the most frequent causes of deaths in the New Zealand mining industry when it started out in the 1840s.
Major mining accidents
Kaitangata, 21 February 1879: 34 miners died in an explosion caused by candles in an area known for firedamp.
Brunner, 26 March 1896: 65 were killed by choking gas. An enquiry determined the cause to be the unauthorised detonating of a charge in an abandoned section of the mine, although this has been contested. The Brunner tragedy was the largest death toll from an industrial accident in New Zealand.
Ralph's mine, Huntly, 12 September 1914: 43 miners were killed when a miner's naked light ignited firedamp.

Dobson mine, 3 December 1926: An explosion killed 9 men.
Glen Afton mine, Huntly, 24 September 1939: 11 men were asphyxiated by carbon monoxide.
Strongman mine, 19 January 1967: An explosion killed 19 miners.
Pike River Coal mine, 24 November, 2010: An explosion kills 29 men.
According to West Coast historian Brian Wood, who has written several books on mining, most of the nation's serious accidents have occurred in coal mines, which are different to hard-rock mines.

"You've had your quartz-mining areas in Thames, Waihi and Reefton, but there's not been a major entrapment of miners underground in any of those mines," he said.

The world's worst mining disaster saw 1572 miners killed in an explosion at Honkeiko coal mine in China in 1942. In 1906 at the Courrieres mine in northern France 1099 lives were lost, while the worst mining accident in American history was caused by 1907 underground explosion in Monongah, West Virginia which killed 362 miners.

Australia's worst mining catastrophe was the 1906 Mt Kembla Mining Disaster, where 96 men and boys were killed in an explosion.

This year, in China 130 miners have been killed in four separate mine accidents. In April in the United States, 29 miners were kill in an underground explosion at a West Virginia mine and in May at least 66 miners died after underground blasts at the Raspadskaya mine in Russia.

In June, more than 70 miners were killed after a gas explosion at a coal mine in Colombia.
- with NZPA