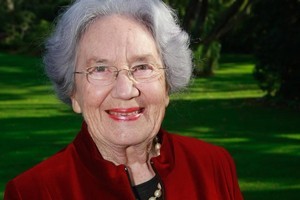 Sir Edmund Hillary's children have blocked his widow from selling his historic watches, as the Government pleads for them to be returned to New Zealand because of their historical significance.
Peter and Sarah Hillary were granted an interim injunction in the High Court at Auckland yesterday stopping Lady June Hillary from selling the watch collection this weekend through the Antiquorum auction house in Geneva, Switzerland.
"There have been a number of very significant items from the Ed Hillary collection that do belong to Sarah and me that have been disposed of inappropriately," said Peter Hillary.
He said it was very sad that he and his sister had had to take court action to stop their stepmother from going ahead with the sale, but it was the straw that had broken the camel's back.
One of the watches, a Rolex Oyster Perpetual, was presented to Sir Ed after he and Sherpa Tenzing Norgay conquered the 8848m Mt Everest in 1953.
Sir Ed wore the watch on the Trans-Antarctic Expedition from 1953 to 1958.
Peter and Sarah Hillary's lawyer, Alex Witten-Hannah, said ideally all the family heirlooms would be returned to New Zealand but ownership of the collection was still unresolved.
"Peter and Sarah are delighted the watches will not be sold but sad it had to happen this way," said Mr Witten-Hannah.
The Hillarys said Lady June had put the watches up for sale without talking to them.
The watches were owned by the family, not Lady June, under the terms of Sir Ed's will.
"They, along with a lot of other items, are of great significance to this family and I would suggest in some respects to New Zealand, in terms of being important items from the Ed Hillary collection," Peter Hillary said.
The Ministry of Culture and Heritage has asked Lady June to return one of the watches, worth around $25,000, saying it has legal protection under the Protected Objects Act.
The ministry was waiting yesterday for a response from her lawyers before deciding its next course of action.
Peter Hillary has also said he was deeply saddened by Lady June's decision to give 17 sentimental artefacts to the Otago Museum.
"June is giving away sentimental items which belong to the Hillary family without any sort of consultation ... There is a genuine sadness involved," said Mr Hillary.
A number of the artefacts were of great sentimental value and he was not aware of the donation until he read of it in the Otago Daily Times.
"For June just to donate the items, which we then find out through the media, is inconsiderate and heartless," he said.
Of the 17 artefacts, Mr Hillary said a number did not belong to Lady June and she had no right to give them away without permission.
"Ed Hillary was my father. Some of those items had great sentimental value to me and my family ... Some items, such as the prayer books, are not rightfully hers."
Neither Lady June nor her lawyer was available for comment.
Sir Ed died in January 2008.
- additional reporting: Otago Daily Times, NZPA