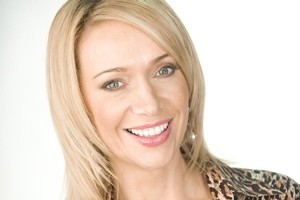 Television presenter Alison Mau has spoken publicly for the first time about her same-sex relationship, saying she has "fallen in love with a wonderful woman".
Mau, the popular Television NZ newsreader and Fair Go host, ended months of speculation on Saturday night when she introduced her girlfriend, Karleen Edmonds, to the audience at a fundraiser at Auckland's Aotea Centre.
She was on stage about to announce the winner of the Queen of the Whole Universe fundraising pageant when she told the audience: "There is no room in my life for bigotry of any kind and I am proud to be standing amongst this community."
The gaynz.com website said she then acknowledged Ms Edmonds, who was at her side throughout the evening, introducing her to the audience by saying she was looking "incredibly hot".
The comment reportedly caused the packed auditorium to erupt into cheers and applause.
Mau later told the website that when she said she was proud to be standing among the community, she did in fact meant "our community".
She said she hadn't wanted to talk about her relationship until then, having endured intense publicity all year.
"I haven't wanted to talk about it. It's been a difficult time and the speculation has caused me grief."
She was also aware of the impact it would have on her family.
"I had to bear in mind the effect this would have on my [two] children and ex-husband."
Mau was formerly married to fellow TVNZ news anchor Simon Dallow.
She said her attraction to Edmonds came as a surprise.
"I have fallen in love with a wonderful woman and it was just so unexpected," she said, smiling.
Last night, Mau told the Herald she made the comments at a fundraiser that she had attended since 2004 as part of her charity work.
"Personally, I think people are just bored to tears with this story but it was appropriate to make those comments at that setting and I've really said everything I wish to say."
The 44-year-old told gaynz.com she felt the speculation was an attempt to force her out into the open before she was ready.
But that moment didn't arrive until Saturday night's event.
She told gaynz.com that she finally felt safe to come out publicly.