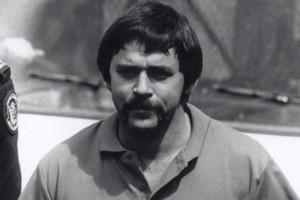 Convicted double murderer David Tamihere has been granted parole after serving nearly 20 years in prison.
He will be released on parole on November 15.
Tamihere, 55, has spent nearly 20 years in prison after being found guilty in 1990 of murdering of Swedish backpackers Urban Hoglin and Heidi Paakkonen in the Coromandel.
He had skipped bail for a 1986 rape and was on the run when the murders were committed, and had a manslaughter conviction for the 1972 death of an Auckland prostitute.
He has maintained his innocence throughout his imprisonment and made a number of appeals against the conviction.
The Parole Board made the decision after Tamihere's 14th appearance before the board at Auckland Prison in Paremoremo, north of Auckland, yesterday.
The decision was reserved so the victims' families could be informed.
'Remarkable breakthrough'
In a report released today, the board said Tamihere had made a "remarkable breakthrough" after working with a Maori psychologist.
"He had always in the past resented involvement with psychologists and would not cooperate with them," said the report, written by panel convenor Judge DJ Carruthers.
"As a result of the counselling he received from this person and with special help from the Department of Corrections and encouragement from his family, he undertook and completed the Adult Sex Offenders Treatment Programme."
According to the report, Tamihere has made "remarkable changes" as a result of completing the programme. "He has moved from being a very closed person to being quite open about all aspects of his past life and is showing increased ability to manage his risk in a satisfactory way."
Denial
Tamihere has never admitted the killings and the police earlier requested a condition of his release be that he disclose the whereabouts of the body of Ms Paakkonen, which has never been found.
But the Board has decided there is "no purpose to be served in further pursuing that issue [his denial]".
According to the report: "Previous Boards have had what has been described as 'vigorous and robust discussions' with him about both his denial and where the body of one of the tourists who has yet to be discovered could be found.
"Mr Tamihere has been adamant in his denial and we are satisfied that there is no purpose to be served in further pursuing that issue.
"We feel strongly for the victim's family that they cannot at present complete the usual funeral and burial procedures which may bring at least a measure of peace to them but we record that our attempts have not been successful and we do not think that we can take that matter any further."
Risks
The report also mentioned Tamihere's past alcohol abuse, which has been a "major risk".
"He now understands that he has to regard himself as an alcoholic and will never drink again... but it is clear to us that a special condition that he not consume or possess alcohol or illicit drugs for the whole of his life will be essential in his case."
Tamihere is to be released to live at a residential property at an undisclosed location.
According to the board's report, it wasn't feasible to release Tamihere to a remote farming property owned by his family that had "considerable spiritual and ancestral meaning" to him because electronic monitoring was not available and access to the property was very difficult.
- NZ Herald staff, NZPA