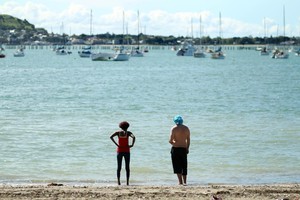 Batten down the hatches because some parts of New Zealand are in for a wild summer.
Forecasters are warning of La Nina conditions similar to those of 1988 when Cyclone Bola smashed the east coast of the North Island with three days of torrential rain and winds up to 100km/h that caused $82million in damage.
Three people died when the car they were in was swept away by floodwaters and hundreds were evacuated. But while weather experts say that's potentially coming, they won't predict what areas could be hit.
Warm nights and hot days will dominate summer but Kiwis can also expect to see thunderstorms and even cyclones thrown into the mix as one of the strongest weather patterns in more than 20 years arrives on our shores.
After a chilly start to spring, experts say a "very strong" La Nina is building and should bring with it warmer-than-normal temperatures over much of the country.
Weatherwatch analyst Phil Duncan said this La Nina was shaping up to be the strongest since 1988.
"While you can't draw a direct comparison to this La Nina, the 1988 one did produce Cyclone Bola," he said.
La Nina would also bring more easterly winds. For Auckland, that would mean more humidity than last year.
"This brings us more humidity and cloud - so we have warmer nights. It can produce stuffy, hot conditions during the day but doesn't usually bring northern New Zealand huge temperatures."
Duncan said the best place to be over the summer would be the West Coast of the South Island. "Other favourable areas will be Kapiti, Horowhenua, Manawatu, Wanganui and Taranaki. Least favourable with La Nina, as far as holidaymakers are concerned, could be Northland, eastern Coromandel, and Gisborne. But there is never a rule. We are two small, mountainous islands in the South Pacific.
"We can be affected by any weather at any time."
Duncan said more easterlies would develop once the spring westerlies started to ease at the end of the month.
"The low that brought the flooding to Gisborne this week is a classic La Nina set-up. Western and northern New Zealand had rain and wind ... western areas were sunny and dry. We could see droughts in western New Zealand, too."
Metservice weather ambassador Bob McDavitt said the Southern Ocean was to blame for the icy spring conditions. "The reason for cold outbreaks over the past few weeks is to do with the Southern Ocean finally sharing some cold air with us after hogging it to itself during winter," he said.
"Chilly southerly changes are still likely, as in any spring. However, they are not expected to last long. Some of these may bring squally thunderstorms and hail, especially to eastern districts.
"Anticyclones are expected to wander lazily across the zone between Tasmania and the Chatham Islands. Central parts of New Zealand may end up with less westerly wind than in a normal spring, and have more periods of settled sunny weather."
The Niwa National Climate Centre said La Nina had recently strengthened and was likely to continue through to autumn.
"October to December temperatures are likely to be above average, in all regions," Niwa's seasonal climate outlook stated.