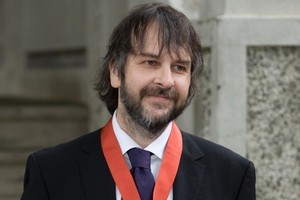 Attorney-General Chris Finlayson has written to Sir Peter Jackson's Hollywood backers. Photo / Mark Mitchell
The producer of The Hobbit has come out swinging against the Australian union calling for a world actors boycott of the New Zealand film.
Sir Peter Jackson is defending the record of his production company, Wingnut Films, saying in a statement the fees New Zealand actors have received over the past 10 years have been "consistently fair and generous".
"For years our company WingNut Films has hired actors on terms and conditions that are among the best and most generous in New Zealand," Sir Peter said. "We have always treated cast and crew with kindness and respect, because it is the right thing to do, not because it is enshrined in an industry code of practice.
"I am a firm supporter of unions but when a tiny minority is empowered to endanger the livelihoods of so many people, something is very wrong."
The controversy arose after the Australian Media, Entertainment and Arts Alliance called for a worldwide boycott of the pre-quel to the Lord of the Rings trilogy, as Sir Peter had refused to enter into a union-negotiated agreement with the actors.
MEAA national director Simon Whipp said actors could be let go with just one day's notice, and there were concerns producers would not pay fees in standard union contracts, such as payments from DVD sales.
Sir Peter maintained the residuals on The Hobbit will be worth "very real money" to the Kiwi actors who are cast in the film.
"This is the first time ever NZ actors have had residuals, and we are proud that it's being introduced on our movie. The level of residuals is better than a similar scheme in Canada, and is much the same as the UK residual scheme. It is not quite as much as the SAG rate."
Sir Peter said fees New Zealand actors were paid favourably here compared to what they would receive overseas. An actor contracted to appear in a small supporting role would receive around NZ$5,000 per week, whereas the Screen Actor's Guild of America's published current minimum weekly rates for the same role is NZ$3,800, he said.
Sir Peter also refuted claims that the production favoured overseas actors, saying in 1999 he asked New Line to cast Kiwi actor Karl Urban in the role of Eomer in The Lord of the Rings saga.
"The studio were insisting we cast a US actor in the role, but I went into bat for Karl - who had no marquee value in the US market at that time,- because I believed he was the best person for the role. Back then, we would typically pay an actor in a role of that size $1600 a day or $10,000 per week. Again, this rate is higher than the SAG minimum."
The New Zealand Actor's Equity, who operate as an autonomous part of the MEAA, have since acknowledged the Commerce Act prevents a union-negotiated agreement with performers who are independent contractors, following advice from the Attorney General Christopher Finlayson.
"My knowledge of the producers is that they are people of goodwill. I am sure they would want to explore all lawful means by which these issues could be moved forward and resolved." said NZ Actors' Equity President Jennifer Ward-Lealand.
The union have complained that the producers of the film have refused to meet with them to resolve the issue, however Sir Peter said the Screen Production and Development Association, who represent film producers, has been trying to meet with NZ Equity and MEAA for the past 18 months to discuss the actors contracts.
"The MEAA needs to stop playing games and to sit down at the negotiating table with SPADA. This needs to be resolved and quickly for everyone's sake."
Sir Peter maintained his previous threat to take the hobbit offshore should the stand-off not be resolved, with Eastern Europe one of six locales on the cards.
"Nobody wants to take The Hobbit off shore, but every day we are blacklisted costs Warners money and the studio is now moving to protect it's investment." said Sir Peter.
"It is very naive to think that we have much say in what happens from this point on. Warners gave us an opportunity to set the film up in New Zealand and we have been unable to do that successfully. Warners are cash flowing these films to the tune of hundreds of millions of dollars and they will now decide how, and eventually where, this money is spent."