Services and infrastructure in Christchurch have been seriously affected by this morning's 7.1 quake.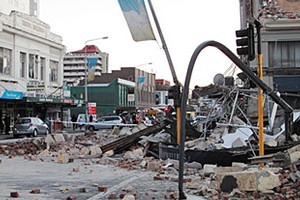 Here is the current situation:
Water
Some outlying areas are still without water. Inner-city residents are being asked to save water by not flushing the toilet as there are fears the city's water infrastructure may have been damaged. There are also concerns the sewerage system may have been damaged.
Power
Mayor Bob Parker says electricity is being slowly restored to the city but power is still out from Rakaia, 60km southwest of Christchurch, to the Waimakariri River, north of the city, and across the Canterbury Plains, through to the foothills of the southern alps.
Roads
Most roads held up well, said the New Zealand Transport Agency, but motorists were urged to stay off the roads unless their travel was essential.
At least 20 roads had been damaged and some are impassable in parts of Christchurch. Street surfaces have risen up into a peak in the middle of some roads, while craters have filled with water from ruptured mains.
Among the affected streets are Hills Rd in Shirley and others in the suburb of St Albans.
In other areas roads have been blocked by debris after several buildings collapsed onto the streets, leaving their interiors visible and the central city resembling a war zone.
Traffic lights were still not working in several places around the central city earlier today, creating gridlock as the traffic flow increased.
Some state highways were damaged but only two road closures were needed because of slips and road slumps. The ground had also moved around some bridge abutments.
NZTA Canterbury state highways operations manager Peter Connors said SH77 between Methven and Windwhistle and Mid Canterbury had been closed. SH75 Taipapu to Kaituna in the Banks Peninsula area near Christchurch had also been affected but remanded open.
Key bridges on the SH1 over the Ashburton and Rakaia Rivers to the south of Christchurch and across the Waimakariri River north of Christchurch are operational. The Chaney's Road on ramp on to SH1 north of Christchurch is closed.
Public transport
Much of the South Island's rail network was closed after the earthquake hit. A 5km stretch of rail track near Kaiapoi was damaged and KiwiRail said there was less extensive track damage near Belfast and at Rolleston. None of KiwiRail's 15 trains operating on South Island rail lines derailed when the earthquake struck. Rail lines north of Kaikoura and south of Dunedin reopened at 10.30am.
The Lyttelton tunnel has been inspected and declared safe and KiwiRail said there appears to be no track damage in central Christchurch although signals were not working because of power cuts. Track crews were checking bridges and tunnels throughout the region for damage.
All Metro bus services in greater Christchurch were suspended for today and tomorrow.
Phone lines
Telecom - services continue to stand up well. As elements of the mobile network are running on battery back up, Telecom is urging its customers to reserve power on the network and use mobiles for emergency calls only. Use of mobile phones for sending images and video from the area should be minimised. 111 services are fully available.
Vodafone - the network is working at full strength, but electricity is the biggest threat to service as parts of the region remain without power. Vodafone is advising customers to keep cellphone calls short or preferably use text messages.
2degrees - four of its cellsites are down. Most sites are now running off emergency power. 2degrees is urging customers to preserve battery life.
Airport
The airport reopened at 1.30pm, however most flights have been severely delayed.
Hospitals
All Christchurch hospitals are operational. Christchurch Hospital spokeswoman Michelle Hider has asked residents with minor injuries to go to 24-hour surgeries for treatment rather than the hospital.
Mail
New Zealand Post said there would be no mail deliveries today.
Food
The New Zealand Food Safety Authority (NZFSA) has issued advice to protect people from foodborne illnesses in the wake of this morning's quake:
* minimise food and water spoilage
* focus on hygiene
* use safe cooking and washing water
* ensure food is safe
- NZ HERALD STAFF, NZPA