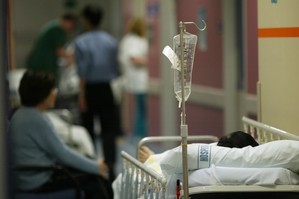 A new batch of health workers' strikes will mean further delays for patients awaiting surgery.
The Auckland District Health Board yesterday extended its cancellation of virtually all elective surgery, after being notified of further strikes.
Hundreds of patients will now have to be rebooked for operations after the strikes end.
A board spokesman said the period of cancellations had to be extended after laboratory workers gave notice of strikes on September 10 and 13.
The Medical Laboratory Workers Union said the September 10 strike was at all three of Auckland's district health boards.
This action comes on top of:
* A strike by unionised radiographers at Counties Manukau DHB, which was to end this morning.
* A three-day radiographers' strike at Auckland DHB from next Friday.
* A national strike by radiographers on September 7.
The strikes by laboratory workers and radiographer members of the Association of Professional and Executive Employees are retaliation for health board suspensions of members who have been engaged in lower-level industrial action for months.
"It's a response to the DHBs' behaviour in suspending lab workers for up to five days at a time," said the laboratory union's secretary, Bryan Raill.
He said members at some DHBs had rejected the latest offer, for two pay rises each of 1 per cent plus some backdating in a 25-month contract.
Some wanted to accept the offer, but the boards had refused to settle unless the union agreed at all work sites.
The general manager of medicine for the Counties Manukau District Health Board, Brad Healey, said it would start to get back to normal after the end of the strike at 7.30am today.
He said radiographers were called "on average 50 times a day" to carry out emergency procedures during the strike action.
Mr Healey said his DHB "coped ok" during normal patient volumes.
"Those booked for elective surgery had to be deferred ... and when they are rebooked, they bump off others. There are flow-on effects. The second impact is the threshold for getting x-rays goes up so there is more risk," Mr Healey said.
He said more patients who needed radiology would have their elective surgery postponed by the September 7 strike.
"The main service affected is orthopaedics.
"The number of patients will be about 15 to 20 for that day."
Mr Healey said contingency planning for the laboratory workers' strike had started.
Both unions have agreed to provide staff to perform life-preserving services while their colleagues are taking action.
- With NZHERALD STAFF