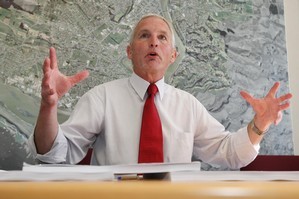 Name-calling, police complaints, lawsuits and a scrap in a radio station. It's the curious world of the Wanganui mayor and his nemesis.
What began as a political scrap between Michael Laws and mayoral candidate Jevan Goulter, an openly gay 21-year-old, has escalated into a bizarre farce.
In a statement to the media yesterday, Mr Goulter said a Sydney gay rights activist suspected that Mr Laws found "the younger Jevan Goulter attractive".
"Jevan is a very handsome young man," said the activist, Gary Burns.
"I would let him put his fluffy slippers under my bed any day. Does Mr Laws want to ask him out for a baked dinner?"
Mr Burns said he was thinking of travelling to New Zealand to help Mr Goulter with his campaign.
"I will bring a little red dress for Mr Laws to slip into. Maybe he can do a bit of go-go dancing in his family closet to a Shirley Bassey record."
The verbal jousting is the latest broadside in a battle that led Mr Laws to file a police complaint this week that Mr Goulter, a Miss Wanganui pageant organiser, tried to sell leaked emails between the mayor and his Auckland lover to newspapers.
Mr Goulter, in turn, is suing Mr Laws for $100,000 for defamation in a Facebook post calling the mayoral hopeful a "rent boy", an insinuation the candidate says has diminished his reputation.
The pair physically clashed at Mr Laws' Radio Live studio on Wednesday, when Mr Goulter delivered papers relating to the lawsuit.
The incident led to accusations of assault from both sides - although Mr Goulter's crime, allegedly, is to have thrown some pieces of paper at Mr Laws.
Mr Goulter immediately laid a formal complaint with the police, saying he was shoved and intimidated.
The Wanganui District Council joined the fray on Thursday, when CEO Kevin Ross announced it would take on Mr Goulter for trespassing on council property.
But Mr Goulter has support in his corner too, from former Miss Wanganui organiser Barbara Osborne, who recently made headlines for criticising Miss Teen Wanganui 2010 for dyeing her hair.
Ms Osborne's criticism led to the 15-year-old beauty queen, Olivia O'Neil, giving up her crown.
Ms Osborne became the target of a police complaint from Mr Laws this week for allegedly hacking into his Facebook account.
Mr Laws said the feud had been caused by Mr Goulter's "appalling political stunts". He said he was pushed over the edge when Mr Goulter caused a scene at his 5-year-old daughter's school.
On Radio Live, he admitted to "manhandling" Mr Goulter.
Mr Goulter replied: "He calls it 'manhandling', I call it assault."