As Auckland merges to create a supercity, the Herald looks back at how Auckland has changed over the years. Click here to view the full series.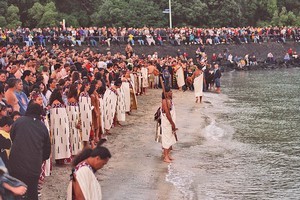 After the hopes of a healthy Maori-Pakeha Auckland envisaged in 1840, Maori came into the 20th century almost landless and deeply impoverished. The Maori population of Auckland in 1900 numbered less than 1640.
A few Ngati Whatua lived at Orakei. Ngati Paoa, Marutuahu and Ngai Tai had scattered hamlets in east Auckland. Ngati Tamaoho, Te Aki Tai, Te Wai-o-hua, Ngati te Ata and Te Kawerau-a-Maki grimly held on to small holdings. The early 20th century vision for Auckland was an entirely European one. Half-hearted attempts to set up a model Maori village met considerable opposition.
An Auckland City Council report said a Maori "village" would degenerate into a slum and that it was against the interests of Europeans to have Maori living in their midst. The mayor stated "Maori should live in the country and not in the town".
As Maori society began rebuilding from a population at its nadir of just 44,000 survivors nationally in 1900, the Maori of Auckland shared the recovery.
Families from broken tribal collectives were making their own way.
Their number steadily grew as Maori began moving into urban centres during World War II, encouraged by a "Price of Citizenship" campaign led by Apirana Ngata and other Maori leaders to earn Pakeha respect by supporting the war effort.
Pakeha fought for their country and Maori fought to be accepted by their country.
The move to cities continued in the economic boom of the 1950s. Maori exchanged rural impoverishment for the poverty of large state housing areas such as Otahuhu and Manurewa.
These arrivals found much prejudice. Parts of South Auckland were reminiscent of the American South. There was separate seating for Maori in movie theatres, separate sections at public pools; Maori weren't allowed in lounge bars, parents campaigned to ban Maori enrolments in mainstream schools.
Living far from traditional homelands and subject to different treatment in the cities, Maori adapted to their new circumstances. Urban marae were established. Hoani Waititi was built in West Auckland. Churches set up Tatai Hono (Anglican) and Te Unga Waka (Catholic) marae.
Tribally centred urban marae such as Te Tira Hou were affiliated to the Tuhoe and Mataatua tribes. Extra-territorial tribes formed taura here groups (binding ropes) to retain links with tribal homelands.
Ngapuhi formed Te Taura Here ki Manurewa (South Auckland) and Te Taura Here o Ngapuhi ki Waitakere (North and West Auckland). Auckland Maori established the first kura kaupapa Maori (Maori immersion school).
In the late 20th century, urban Maori authorities were developed to assist Maori. These included Te Whanau o Waipareira Trust (West Auckland) and the Manukau Urban Maori Authority (South Auckland).
Prominent Auckland Maori led initiatives in Maori radio and television. MAI FM went on to top national polls for the most popular radio station and Aotearoa TV laid the ground work for Maori TV.
Leaders such as Sir Hugh Kawharu, Carmen Kirkwood and Nganeko Minhinnick re-consolidated tribal groups. June Jackson and John Tamihere built strong urban Maori communities.
The 20th century rebirth of Maoridom owed much to protest by Maori in Auckland. Activists Ranginui Walker, Hone Harawira, Donna Awatere and Ripeka Evans honed their skills in Auckland, forming groups such as Nga Tama Toa and the Waitangi Action Committee.
Maori welcomed the 1975 Land March led by Whina Cooper as it crossed the Auckland Harbour Bridge en route to Wellington. Ngati Whatua occupied Bastion Point for 506 days before a second eviction in 1978, the biggest police operation in New Zealand history.
The infamous "He Taua" protest of 1979 challenged annual racist renditions of Maori haka at the University of Auckland. Many of the leaders on these campaigns went on to make significant contributions to protests against the 1981 Springbok tour.
Mike Smith was arrested after attempting to chop down the pine tree on One Tree Hill in protest at the Government's "fiscal envelope", a policy that intended to restrict settlements under the Treaty of Waitangi to $1 billion.
Ben Nathan attacked the Americas Cup in 1997. Te Tino Ata Toa led a successful campaign to fly the Tino Rangatiratanga flag alongside the New Zealand ensign on Waitangi Day.
More recently, 10,000 Maori marched down Queen St in the campaign for Maori seats on the new Auckland Super City council.
There are 137,000 Maori in Auckland today, 11 per cent of the city's population. They comprise 24 per cent of the New Zealand Maori population.
More than 115,000, or more than 83 per cent, are descended from tribes outside the region including significant numbers of Ngapuhi (40,000), Waikato (20,000), Muriwhenua (15,000), Tauranga-Maatatua-Tuhoe (14,000), Te Arawa-Tuwharetoa (7000), Ngati Porou (9000), Wellington-Wairarapa-Whanganui (9000), and Ngai Tahu (4000).
Between 1985 and 1987, the Waitangi Tribunal released three reports concerning Tamaki.
The Manukau Report (1985) detailed a litany of land loss around the Manukau Harbour and was instrumental in the introduction of the Resource Management Act 1991, which for the first time in New Zealand law gave statutory consideration of Maori environmental concerns.
It also ensured that Te Aki Tai, Te Wai-o-hua, Ngati Te Ata and other hapu were consulted as guardians of the Manukau Harbour which led to a significant clean-up, including dismantling of the sewage ponds around Puketutu Island.
The Waiheke Report (1987) said Ngati Paoa had been unfairly rendered almost landless. A settlement signed in 1990 transferred ownership of the Ngati Paoa Station on Waiheke Island and finance for the purchase of stock worth $1 million.
The Orakei Report (1987) found Ngati Whatua had unfairly lost its lands and that the eviction from Okahu Bay in the 1950s was particularly unjust. The tribe received $3 million compensation and were granted joint management of Okahu Bay Reserve.
Today they play a prominent role in the cultural and political life of Auckland city.
More recently, the Tamaki Report (2007) highlighted several anomalies in the way the Office of Treaty Settlements planned to settle Maori claims to wider Auckland.
This led to a landmark settlement agreement this year that provided $180 million compensation and returned ownership of 11 mountains, including Maunga Whau (Mt Eden), Maunga Kiekie (One Tree Hill) and Mangere Mountain, while also guaranteeing public access to them.
The Tamaki tribes now live in an environment where local authorities increasingly recognise their presence as important to the future of the city.
Te Kawerau-a-Maki for instance has an important presence at the Arataki Visitor Centre, the gateway to the Waitakere Ranges.
Perhaps one of the most poignant events in the recent history of Auckland was when over 40,000 people gathered at Okahu Bay at dawn on Millennium Day, January 1, 2000, to welcome the modern Ngati Whatua canoe Mahuhu-ki-te-rangi into the bay from where, 50 years earlier, the tribe had been evicted. This was a lesson perhaps that over time patience and perseverance can unlock the gates of all prejudice.
Associate Professor Rawiri Taonui is head of the Aotahi School of Maori and Indigenous Studies at the University of Canterbury.