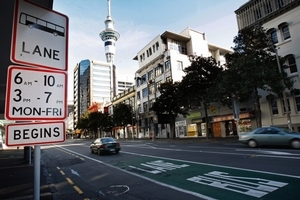 Motorists have been stung $4.2 million in fines in one year for using bus lanes in Auckland City - even though they have no indication when they can enter lanes to turn left.
Traffic defence lawyer Steve Cullen says the lack of signage is disgraceful.
Under nationwide Transport Agency rules, motorists can drive on bus lanes to turn left if they are within 50m of an intersection.
But Auckland motorists are liable for a $150 fine if they switch too soon.
City council officers often place cameras at the 50m mark to record infringements, but there are no road signs to indicate when motorists can enter a bus lane to turn left.
Councils have been flooded with complaints from ticketed motorists claiming they were within the 50m space.
Mr Cullen said councils were irresponsible by failing to back up the rules with sufficient public awareness campaigns and signage.
"Quite frankly, I just think it's a really unpleasant area of the law because they don't advertise the signage and they don't have any discretion, it seems, to waive somebody who, in complete blissful unawareness, thinks they're driving on a legitimate road and find themselves in trouble," he said.
In seven years since bus lanes were introduced, the Auckland City Council has issued $13 million worth of tickets.
In the past financial year, an average of 77 motorists a day have been fined for a total of $4.2 million. The Herald on Sunday reported that since December, when Grafton Bridge was made strictly buses only between 7am and 7pm on weekdays, more than $2.5 million worth of fines had been handed out.
The issue of being fined for driving in a bus lane has sparked a campaign led by TV One's Fair Go for the public to write to the council.
The show found that few pedestrians - let alone motorists - could estimate 50m.
It said it had received more complaints about the issue than any other.
Across the harbour, violations - and revenue - have dropped significantly after the North Shore City Council began marking where motorists can enter bus lanes.
About nine months ago, the council began leaving marked cones 50m from intersections whenever officers policed the traffic lanes.
The council's acting operations chief, Simon Guillemin, said this had led to a significant drop in infringements.
It is understood North Shore City has ticketed up to 25 per cent fewer motorists as a result of the change. "With the signs, people are starting to gauge what 50m really looks like," Mr Guillemin said.
Ken Baguley, chairman of the Auckland City Council's transport committee, said his council was considering putting permanent markers at intersections, but there were significant practical difficulties.
Signage clutter was already a problem, and it would take 200 new signs to mark Remuera Rd's bus lane intersections alone, he said.
Moreover, the rule applies not only to intersections but also to every driveway off a bus lane.
"It's a bit of an obscure rule. It's a difficult thing. But in the end, it's all part of why we have bus lanes - because we want to give a quicker traffic experience to people who make the effort to take public transport rather than travelling alone in a car," Mr Baguley said.
The council was also powerless to change New Zealand Transport Agency rules.
"Don't shoot the staff - all they've done is monitor the rules," Mr Baguley said.
Automobile Association spokesman Mark Stockdale said the AA strongly disagreed with having a 50m turn mark because it put motorists in a potentially dangerous position.
"It forces people to make a late turning manoeuvre. Fifty metres is not a long enough [distance] to make a turn," he said. Instead, it should be left to the driver to make a sensible and safe decision as to when to turn.
"That's not to say that you're going to go onto the bus lane halfway down the road.
"They should be ticketing only the people who are blatantly using the bus lane wrongly - not people who are trying to turn safely into a side street."
With councils receiving millions in fines each year from motorists using bus lanes, it was surprising they had not invested more money in signage or advertising campaigns on the issue, Mr Stockdale said.
"The level of revenue that they have earned would suggest that what they're currently doing is not working. The council needs to come up with another way - maybe use that money in advertisements," he said.
Only about one in 50 drivers contest fines in Auckland City and less than 10 per cent of fines on the North Shore have been waived, primarily for genuine emergencies.
Mr Cullen said the rule was a "strict liability" offence - meaning it stood even when motorists had no idea they were transgressing.
He said strict liability offences were intended to change social behaviour by encouraging precaution.
Have your say:
Email newsdesk@nzherald.co.nz