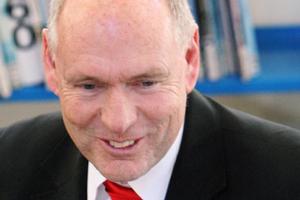 Labour MP Chris Carter has owned up to spending taxpayer money on pay per-view films and flowers for his partner.
The details of ministerial credit-card spending has been released today under the Official Information Act.
Labour's former ministers were sent copies of the records over the past two days. Party staff spent yesterday going through the records, which filled eight boxes.
Labour Party deputy leader Annette King said spending up on Ministerial credit cards was not normal behaviour.
She told Radio New Zealand that ministers took their own money as well as the Ministerial credit card when they headed overseas and there were clear rules on what credit card could be used for.
"It is clear that you should never buy golf clubs," she said, referring to Mita Ririui who spent $682.77 in a golf shop in Perth on his Ministerial credit card.
Mr Carter held ministerial roles in the Labour-led Government including Conservation, Local Government, Building and Housing, Building Issues, Ethnic Affairs, Housing and Education.
In a statement, he said there were no records to suggest that he paid back the total of $251.16 at the time but that he had since sent a cheque for that amount to the Department of Internal Affairs.
MP Shane Jones is expected to be one of the former Labour Cabinet ministers more embarrassed by today's release of credit card spending going back six years.
Before leaving office, he is understood to have repaid about $6000 for spending deemed outside the rules.
This included hiring a plane from Auckland to make a speech in Tauranga, movie rentals, and the purchase of magazines and expensive wine.
Mr Jones was Building and Construction Minister.
Former Minister Mita Ririnui spent $682.77 on a golf shop in Perth on January 4, 2007, incuding, for tees and call, gloves, some clubs and a carry bag.
He also spent $899 at a Tauranga bike shop in February 2008.
Both were reimbursed by Mr Ririnui soon after the purchases.
Until this year, only the total spent on ministerial credit cards has been released, not the details.
But Prime Minister John Key decided that full details should be made public.
After the first such release, in February, Housing Minister Phil Heatley resigned from the Cabinet and asked the Auditor-General to investigate.
He was reinstated after the investigation found he had not intended to deceive when spending $1402 against the rules, most of it on travel-related costs for his wife and children.
It found that Mr Heatley's spending of $70 on wine at a National Party function was legitimate.
Ministers' and former ministers' credit card records were delivered to journalists this morning.
Thousands of documents which took officials four months to gather show what ministers used their credit cards for during the six years Labour was in office and the current Government's term up until February. They have been released under the Official Information Act.
Internal Affairs spokesman Allen Walley said the cost of the release was in excess of $50,000 and three staff had worked full-time on it since requests came in February, when the first release of credit card records for the National Government were made public.
The information had to be accessed, copied, collated and have privacy checks done.
About 14 sets of eight cartons of documents - there are 7000 individual documents - were delivered to parliamentary press gallery journalists at 9am.
The release covered from April 2003 until February this year, taking in much of the Labour Government's last term in office.
Of 21 former ministers no longer in the House, 11 requested their details.
- additional reporting by NZPA