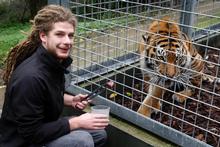 Jaka the Sumatran tiger had become a little stuck in his ways.
The 10-year-old animal would broodily pace in his enclosure, distressing not only himself but the curious people who had come to see him.
So a Waikato University student spent a year observing his behaviour at Hamilton Zoo, trying to pinpoint the cause of his pacing.
Toby Fitzpatrick, 23 - pictured with Jaka - who is about to graduate with a bachelor of science (technology) degree, found the tiger's pacing was usually an indication of stress.
"It shows that something isn't quite right with the animal behaviourally ... and it can be distressing for zoo visitors as well."
Mr Fitzpatrick's study found that Jaka, who was born in captivity and brought to Hamilton Zoo as a young adult, would begin walking up and down in his enclosure when he knew he was about to be fed.
The tiger would also pace in anticipation of other interactions with the keeper, his or her talks with the public and being shifted between enclosures.
"The results sort of showed we needed to mix it up and have as much interaction with him as possible, he was sort of stuck in a routine and obviously had learned the keeper's routine as well," said Mr Fitzpatrick.
"You could sort of say he had figured things out and what was going to happen so it wasn't overly exciting for him ... so we worked on changing that."
While Mr Fitzpatrick's research has not stopped Jaka pacing, he was hopeful that zoos throughout New Zealand would find it helpful in assisting with their own animals' schedules.
In the meantime, the student, who moonlights as a bouncer at a Hamilton bar, is trying to find a fulltime job.
"Hopefully it will be in a zoo-type environment. There are always various jobs going with people leaving but I guess I'll have to wait and see."
By James Ihaka

Email

James