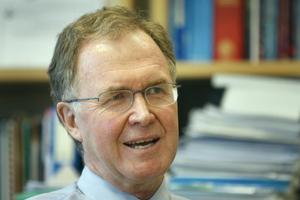 Outgoing health watchdog Ron Paterson has lashed out at New Zealand's "post-code lottery" public health system, after finding a woman's access to diagnostic scanning was unfairly delayed.
In a report issued yesterday by the Health and Disability Commissioner's office, Mr Paterson, who finished as commissioner in March, faulted the Nelson Marlborough District Health Board for its delay in the management of the young woman, who was found to have a benign brain tumour.
The woman, aged in her 20s, experienced symptoms which in 2005 her GP and a private ear, nose and throat specialist considered serious, but were not considered urgent enough by the DHB to warrant a publicly-funded scan by magnetic resonance imaging (MRI).
"Mrs A" was suffering pain and hearing loss in her right ear. When her symptoms worsened in 2006, a "semi-urgent" MRI brain scan was recommended. But in May 2007 a DHB radiologist advised her she did not qualify.
The following year, when Mrs A had balance problems, she was referred for an urgent scan, which revealed a 4cm, slow-growing benign tumour.
Surgery that year removed part of the tumour. She made reasonable progress but had a "dead" right ear from the surgery and suffered headaches.
Further surgery was performed this year.
Historically patients in the region were sent to Wellington or Christchurch for MRIs, but by January 2007, a public-private partnership in Nelson was scanning public and private patients.
Mr Paterson said it was unfair that other patients with Mrs A's condition living anywhere but Nelson-Marlborough would have been accepted on a wait-list and been scanned well before she received her scan.
"It is inequitable that New Zealanders with similar needs do not receive similar access to publicly-funded services.
"It is no surprise that the system has been described as a 'post-code lottery'." The Nelson Marlborough DHB said yesterday it had apologised to the patient.
Mr Paterson noted that his concerns reflected those of the Ministerial Review Group last year, on whose advice the Government has created the National Health Board, partly to make access to services more consistent between DHBs.
- ADDITIONAL REPORTING: NZPA