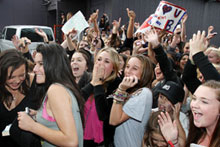 Pop and R&B may be teenage heart-throb Justin Bieber's forte, but it was heavy metal he wanted to hear yesterday.
"Bieber fever" hit Auckland as the 16-year-old performed at Papakura's Academic Colleges Group Strathallan school following a competition won by a student to host him at her school.
But before he sang six songs in the school hall in front of 800 screaming teenagers, Bieber - dressed in blue sneakers, a black hoodie and grey beanie - was led into the library to learn a Kiwi song with the school band.
"What are we going to play?" he asked as he walked into the room where up to 40 media were waiting.
"Some Ozzy Osbourne or Led Zeppelin?"
He seemed disappointed to hear they would be jamming Rain by Dragon.
"Oh. I've never heard of that ... Have you got any other songs?"
He declined to sing the Kiwi hit after the lesson but played the drums before departing with a tip: "Good job, that was fun ... The next song you need to learn is One by Metallica."
The school was under tight police security, with names of invited media and guests being checked at the gate, stopping a small group of teenagers from other schools who had hoped to catch a glimpse of the young Canadian.
Ambulances were also on site for any scenes similar to those at Sydney's Circular Quay this week, where police pulled the plug on Bieber's free public show after dozens of young girls were trampled.
But aside from the hysterical screams, chanting and waving of homemade signs, students were well behaved yesterday.
Some chased his Volkswagen peoplemover, with tinted windows, yelling "I love you".
Sobbing girls started gathering at TV3's Auckland headquarters about 9.30am yesterday waiting for Bieber to arrive for an interview on C4's Select Live after his school performance.
A radio station had its fun with the hype, sending a limo with a Bieber lookalike inside. He covered his head as they mobbed the car.
Earlier, Bieber and his entourage bungy-jumped off the Auckland Harbour Bridge.
He has kept fans updated with his movements on social networking site Twitter.
"I'm in New Zealand!" he wrote.
"They got no predators in the whole country! I am the most dangerous creature here!"
But earlier the star wrote of his frustration when he was swarmed at Auckland International Airport when he arrived on Tuesday.
"The airport was crazy. Not happy that someone stole my hat and knocked down my mama. Come on people," Bieber wrote.
Bieber was greeted by about 500 Kiwi fans as he came through the arrival gates.
"Come on people ... I want to be able to sign and take pics and meet my fans, but if you are all pushing, security won't let me," he said on Twitter.
"Let's keep it safe and have fun."
- Additional reporting Eloise Gibson
By Alanah Eriksen @AlanahEriksen

Email

Alanah