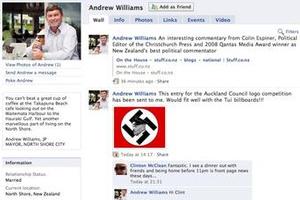 North Shore's "leaky mayor", Andrew Williams, apologised yet again yesterday ... this time for putting a cartoon showing Local Government Minister Rodney Hide as Adolf Hitler on his Facebook page.
Asked about the cartoon by the Herald yesterday, Mr Williams said he would remove it.
"It was a joke emailed to me the other day as a new logo for Auckland Super City," said the Mayor, who is doggedly trying to force the Government to triple its contribution to the national leaky homes repair bill.
"It's funny. I thought a few of my friends would want to see it, so I put it on.
"There is all sorts of stuff going the rounds with Hide in them, and this one actually caught my humour.
"But I'll take it off if people are offended."
Mr Williams said the cartoon, which drew fire from at least two prominent bloggers, was on the site along with a mock Tui billboard he had been sent by email that says: "There is no association between the donations to the Act Party and appointments by Rodney Hide on the council-controlled organisations. Yeah right."
A spokesman for Mr Hide said last night that the Act leader would not comment.
Posting the cartoon was a tit-for-tat action. The first-term Mayor said Mr Hide had been "deeply offensive" by calling for his resignation in response to a Sunday newspaper's allegation about him driving home after drinking at a local restaurant.
The next day, the minister said that it was a matter for the voters of the North Shore to decide the Mayor's future.
But Mr Williams said it was out of order for a Local Government Minister to "interfere over trivial media allegations".
On Tuesday, Mr Williams said he was neither inebriated nor over the alcohol limit when he drove the mayoral car from Takapuna to his home in Campbells Bay.
But he apologised to people who were offended at the allegation he relieved himself on a tree outside the council offices.
In a Herald interview yesterday, Mr Williams said he was not "easing up" on the minister.
"Everyone has the common attitude towards him that he is going too far and he has exceeded his mandate," the mayor said.
"How can he be the one who basically appoints all the CCO directors when so many people don't support his philosophy and politics?"
Mr Williams said his Facebook page had 97 friends.