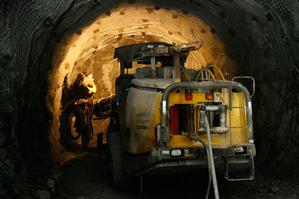 Prime Minister John Key says the public will have to wait for a discussion paper to be released to find out which areas of conservation land may be mined and how.
The Government last year did a stocktake of minerals in the conservation estate, with the intention of taking parts of it out of the schedule in the Crown Minerals Act that protects it from mining.
A proposal is to be put forward soon, as the Cabinet discusses a mineral stocktake, but several conservation and environmental groups say they have already learned which areas are on the list.
The Forest and Bird conservation body says the Government is planning to allow mining in 7000ha of high-value conservation land in the West Coast's Paparoa National Park, Great Barrier Island and the Coromandel Peninsula.
Asked on TVNZ's Breakfast programme this morning about the issue, Mr Key would not give details of which areas were to be mined and what methods would be used.
"It's the predictable scaremongering from Forest and Bird. We haven't even released the discussion document yet," Mr Key said.
Forest and Bird spokesman Kevin Hackwell said the organisation had learned of three areas to be named in a delayed discussion document as areas the Government wanted to allow mining in.
Those included about 700ha in Te Ahumata plateau on Great Barrier Island, 396ha in Otahu Ecological Area, 3000ha in Eastern Paparoa National Park near Inangahua and 2500ha near Thames township.
Some say the Thames township is a danger zone when it floods.
Green MP Catherine Delahunty said it was "unthinkable" that the Government would knowingly increase the risk to lives and properties in the area, as research in previous years had shown the township was prone to debris flows and flooding.
"If they had done the most basic homework they would know that these hills and the streams above the Thames township are prone to heavy storm damage and that the town is already at risk," she said.
Coromandel Watchdog spokesman Denis Tegg says the move is "stupid and reckless".
"The conservation land [in Thames township] is very steep and unstable. It has emergent forest cover and is starting to heal after past devastation from logging and mining," he said. "It's a no-brainer that mining excavations and vegetation clearance must be avoided at all costs. Mining increases the risks of flooding and landslips."
Mr Hackwell said also under the Schedule 4 stocktake, nearly half a million hectares of other prime conservation areas would be surveyed for mining potential.
They included Kahurangi National Park, Mt Aspiring National Park, Stewart Island's Rakiura National Park and nearly all the conservation land in the Coromandel Peninsula.
All the areas had outstanding ecological and landscape value, which was why they had been protected from mining, Mr Hackwell said.
"We're not talking about gorse-covered hillsides with the odd tree in these areas. We are talking about rare native Hochstetter's frogs, endangered brown teal, mature forest and pristine wilderness areas."
Energy Minister Gerry Brownlee has also refused to comment on speculation until the discussion document is released.
The value of minerals in conservation land has been put at about $140 billion, but it could be much more than that.
- With NZPA