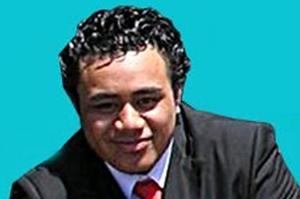 A secure radio channel used by police marksmen was unusable before the fatal shooting of an innocent teenager on a motorway in central Auckland.
One of the police officers who shot at P-fuelled gunman Stephen Hohepa McDonald has revealed that the armed offenders squad's channel - separate from the regular police radio - was not working in the minutes before the standoff in January last year.
The armed offenders squad member gave his account this week at an inquest behind closed doors into events leading up to the death of Halatau Naitoko.
The 17-year-old was accidentally shot dead by police during a stand-off with McDonald on the Northwestern Motorway near Western Springs.
Secret inquest evidence from the policeman - identified only as Officer 81 - was made public yesterday in transcripts which revealed the chain of events before he and and Officer 84 made the decision to confront McDonald.
The officers could not tell the police northern communications centre they were going to confront the fugitive because the AOS channel was not working and there was too much radio "chatter" on the regular police channel.
Up to 20 police cars and the Eagle helicopter were involved in the pursuit, resulting in a nose-to-tail crash between squad cars at one point.
Officer 84 fired the shot that killed Halatau Naitoko.
Colin Pidgeon, QC, acting on behalf of Halatau's family, suggested to Officer 81 that if the armed offenders squad officers had kept their distance from McDonald, they would not have needed to fire.
Officer 81 replied: "I took the action that I believed was necessary to keep people safe."
Mr Pidgeon said the actions turned out to be "disastrous" and Officer 81 agreed the death of Halatau was a tragedy.
On behalf of the coroner, lawyer Chris Morris suggested squad members' inability to communicate with one another would have been difficult and "extremely frustrating" for them.
Replied Officer 81: "It was not something that was ideal but it did not affect the outcome."
The "extreme threat" of McDonald meant there was no time to keep trying to use the congested radio channel.
Under questioning from coroner Gordon Matenga, Officer 81 said no one issued the order to engage McDonald and there was no time to discuss tactics with Officer 84.
"So there was not time to simply say, 'What should we do?"' asked Mr Matenga.
Officer 81: "It was obvious what we needed to do. There was not time to have a discussion about it. We are both aware of our training and what was required."
Officers 81 and 84 approached to within 10m of McDonald as he was trying to hijack a flatbed truck that had stopped on the motorway.
"I could clearly see him holding the firearm at that point and I yelled, 'Stop, armed police'," said Officer 81.
"At that point, the offender raised his gun and pointed it at me. I thought he was going to shoot me and I feared for my life.
"No other tactical options were appropriate when I fired at him.
"After I shot, the offender went down immediately on the deck of the truck, lying face-down with the top of his head towards me, and I yelled "Don't f***ing move'."
McDonald was arrested, and the officer learned soon after that Halatau had been killed.
CROSS-EXAMINATION OF OFFICER 81
Colin Pidgeon, QC: When you ran across the motorway, was it your intention then to use your weapon?
Officer 81: Not if I could avoid it. That is why I called on him [Stephen McDonald] to surrender.
Mr Pidgeon: From your position when you fired the shot, you must have been able to have seen the van in which Mr Naitoko was, do you agree?
Officer 81: No. I was focused on the offender and his actions.
Mr Pidgeon: On a busy motorway, did you not think it was advisable to look first to see if any of the public was in danger?
Officer 81: At that time, I feared that I was going to be shot, potentially killed. I had to react immediately.
Mr Pidgeon: I put it to you that if you had acted with more prudence and kept back, you would not have placed yourself in the situation that you are giving to the court, would you?
Officer 81: There is lots of different scenarios that could have eventuated. I took the action that I believed was necessary to keep people safe.
Mr Pidgeon: Would you accept that the actions of not just you but the armed offenders squad turned out to be disastrous. Do you accept that?
Officer 81: The end result was a tragedy, yes.