The idea of building a $300 million toll road through the pristine Hollyford Valley to pave the way for further tourism dollars has resurfaced. Marjorie Cook explores the route.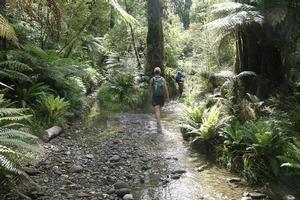 It all started with a bold dream.
Push a road south from Haast through rugged south Westland all the way to Milford Sound and complete an elusive missing link.
First promoted in 1870s, this frequently shelved project has for decades excited entrepreneurs eager to grab a slice of a huge tourist market forced to detour because no road connects the southern scenic jewels.
In the 1990s, the Westland District Council surveyed and costed a more practical alternative that has the same end points but traverses coastal rather than alpine terrain in the mid-section.
Last year, public submissions provided the council with an incentive to dust off the files and set aside funding for a feasibility study.
Millionaire Christchurch businessman Earl Hagaman commissioned a $15,000 report by David McLernon, of Octa Associates (the Octa Report), suggesting a toll road could be built for between $225 million and $315 million.
Hagaman, the founder of the Scenic Circle Hotel chain, argued the road would be of national significance, boosting the $21.7 billion tourism industry and significantly reducing driving time to Milford Sound.
About one million domestic and international visitors make the 600km return journey to Milford from Queenstown each year, mostly by the only road, State Highway 94 (the Milford road).
The 198km-long, 7.5m-wide Haast-Hollyford road would intersect with the Milford road at the Hollyford turnoff, with motorists only doubling the final 16km.
Tour buses travelling from the West Coast would have no need to go first to Queenstown, cutting five hours, or 355km, and lakes Hawea and Wanaka from the journey.
Minister of Economic Development Gerry Brownlee likes the idea but wants significant public support before promoting it to Cabinet.
He has asked the ministries of Tourism and Economic Development for more information.
Opposition is brewing within the New Zealand Forest and Bird Society and the Otago Conservation Board. But the never-say-die Westland council is pushing on. On Thursday, it considered a report on ways to further advance and promote the idea to Government.
A bit of history
The road's history forms a not-so-small chapter in the story of West Coast settlement in the 1870s, promoted by then Prime Minister Sir Julius Vogel.
Settlers from Poland, Russia, Italy, Germany, Scotland and England set sail for Jackson Bay with dreams of escaping famine and failure in their homelands.
They landed on a wet, windswept and wildly remote coast with minimal supplies and no common language. The outside world was accessible only by sea. Boats rarely came and few had any idea what the settlers were enduring.
Earlier, in 1865, Otago provincial leaders had identified the need for a road between Otago and South Westland's goldfields and sent Vincent Pyke to explore.
Pyke came back with an idea for a Clyde-Haast railway that was never fulfilled but provided some basis for a road to Wanaka, which opened 100 years later.
A Haast-Hollyford road was considered key to further Westland development.
Duncan Macfarlane, the Government agent at Jackson Bay, and Gerhard Mueller, Westland's chief surveyor, focused on the alpine route in 1876 and 1884 respectively.
Some construction occurred at the northern end in 1885, and again in 1891. By 1898 there was a metalled horse-track between the Cascade and Barn Bay.
In the 1970s, the northern end was bulldozed for asbestos-mining exploration and to salvage wrecked fishing boats.
Some work occurred at the southern end during the 1930s, at the same time work began on the Milford road. World War II intervened and the Milford road was finished later. The Hollyford road end was abandoned. Westland's history is peppered with tales of unkept government promises of infrastructure and how inaction affected lives.
Tourism and dollars
South Westland is now a 2.6 million ha world heritage area and listed on the Automobile Association's list of 101 Must-Do's for Kiwis.
"South Westland is so grand," says the AA website, "the Unesco declared it as important as the Grand Canyon, Great Barrier Reef, Mt Everest and other global natural treasures."
Haast is a series of villages along the 50km road from Haast River to Jackson Bay and home to 297 permanent residents (2006 census) who are mainly occupied with tourism, farming and fishing.
About 100,000 people visited last year, according to data collected by the Department of Conservation's Haast Visitor Information Centre.
Hollyford, a former roadworkers camp, is the road end of several popular tramps and sports a small museum.
About 2000 people tramp the backcountry Hollyford Track each year, while more than 12,500 people tramp the nearby three-day Routeburn Great Walk, according to DOC data.
Milford Sound, home to just 120 residents (2006 census) but pulling in about one million visitors a year, was described by writer Rudyard Kipling as the "eighth wonder of the world".
But the New Zealand Transport Agency says "one of the most incredible and frequently overlooked features" of Milford Sound is the road journey, reaching 945m above sea level at its highest point, the Homer Tunnel.
The elements have killed people and destroyed structures and an internationally recognised avalanche management control programme ensures the road mostly remains open in winter for visitors.
Some of the Hollyford road's early appeal rested on the possibility of transporting logs to market.
But logging is now banned in publicly owned forests and the focus is tourism - although not exclusively, because mining in Mt Aspiring National Park is back on the Government's agenda.
Otago Conservation Board member Hoani Langsbury called the proposed road a smokescreen for mining interests at a meeting in Tarras last week and the board has recorded its opposition.
New Zealand's conservation estate is a major drawcard, not just for domestic tourists, but for the 2.4 million international tourists who visit each year.
The tourism industry is our biggest foreign exchange earner (worth $21.7 billion) and employs one in 10 people but there is pressure for the conservation estate to make a bigger economic contribution.
Supporters say the road would provide more commercial tourism opportunities. More people would be able to enjoy the world heritage area, of which more than 1.25 million ha would remain untouched. They argue it is only accessible to the very fit or those rich enough to fly in.
Forest and Bird advocacy manager Kevin Hackwell, of Wellington, says it is shallow to argue the backcountry land should accommodate the not-so-fit-or-mobile.
By that reasoning, there would be gondolas to the top of Aoraki-Mt Cook.
A spectrum of tourist activities is important, many DOC attractions are available for the less fit and mobile in the "front country" and a valuable industry is already servicing backcountry travellers, he says.
Although Forest and Bird would oppose any resource consent applications for the road, it is not anti-tourism. Its website chatroom suggests alternatives, such as a cycle lane the length of State Highway 6 or a "great ride" for mountainbikers.
Hagaman commissioned the Octa Report because of the need expressed by Prime Minister John Key last year "for national infrastructure development".
The report notes "enormous tourism potential" from the road, particularly if integrated with the Government's cycleway initiative, "in a world class, environmentally friendly way".
Westland District Council chief executive Robin Reeves says his council has its heart set on a new loop road.
"It is going to be built because we have a promise made by the Prime Minister - not the current one - the one in 1965.
"Keith Holyoake was the prime minister at the time and he opened the last leg of the Haast Pass road at Knights Point and said he would be back in 10 years to open the rest of the road. Well, time's up. We'd like to remind him of that," Reeves said.
Local voices
The road would open Haast to the world but residents, happy with their relaxed lifestyles, have mixed feelings about the changes it would bring.
Cascade Valley farmer Maurice Nolan said he would decide if he would comment next week, once he'd read this newspaper.
Haast Tourism Group chairwoman Neroli Nolan said the group had not formed a view and individual members may hold different opinions.
Eamond Johnston of Johnston Motors focused on positives. "If the road doesn't go to Milford, it stays an exclusive, quality experience. The numbers [of tourists] will continue. New Zealand will keep the jewel in its crown a bit longer. If the road goes through, a lot more people will get to see [the World Heritage Area]. And those along the way may get some financial benefits," Johnston said.
Kerry Eggeling, Haast's Westland district councillor for the past 18 years, shares the community's mixed emotions and ambivalence.
As soon as a bridge goes over the Cascade River everyone would want to go there, causing operational problems for farmers and opening up the areas to rubbish and waste.
"The Westland District Council supports it because of the benefits to the Coast. Locals may not share the same view. Certainly the business locals, the tourism locals, would be more than interested in it. The farming-related locals do have a different view," Eggeling said.
When he was elected 18 years ago there were about 50 tourist beds at Haast.
Haast still only attracts a small percentage of tourists but there have been improvements.
Now he thinks there are about 600 beds and, including camp and campervan sites, up to 1000.
Eggeling said he couldn't stop change. "Look at Wanaka. People in Wanaka didn't want what happened but it has happened anyway. Haast is already changing and there are million-dollar baches here. Yet we still only have a one-teacher school and struggling freight service.
"People bring all their stuff with them and take our fish away. They are not doing our economy any good," he said.
The new tourist loop was a "hell of a better run" than the Queenstown double-back and maybe Haast could become a new stop-over point, with bed capacity for 2000-3000, he said.
The road would force land values up, open new markets and transport routes, and make cellphone coverage possible.
"It's got to happen. It is the last frontier in New Zealand. As far as the whole of Westland goes it would be the best thing out. We are not going to be able to stop things changing," Eggeling said.
THE NITTY GRITTY
* TOTAL COST (MILLIONS): $225-$315
* ANNUAL MAINTENANCE (MILLIONS): $1.1-$1.85
Needed for the Haast-Hollyford road:
* $225 million-$315 million. The road promoters want the Government to pay. The extent of proposed public/private partnership is not clear.
* Inclusion in the NZ Transport Agency's programme: Seven nationally significant projects were announced last year, addressing critical routes around the five largest population centres. They receive a combined investment of $4.5 billion until 2012. Only one is in the South Island.
* Planning consents and legal road status: Consents would be needed from four territorial authorities and the Department of Conservation, including obtaining materials from within the national park. The route also needs to be resurveyed and gazetted.
* 198km of roadworks: Just 108km needs to be formed between Cascade Valley and Humboldt Creek but the unsealed roads at both ends also need to be brought up to highway standard. A 198km unsealed road would have a higher crash rate and less motoring appeal.
* Annual maintenance costs between $1.1 million and $1.85 million: NZTA Otago Southland highways operations manager Murray Clarke's "best estimate" of annual maintenance costs for this route is $10,200 per km. Costs will vary depending on weather and the terrain. Issues include swamps, high rainfall, river floods, rock falls, erosion and snow. The estimate excludes flood damage, emergency work, maintenance and long-term paving.
* 40 bridges, totalling an estimated 1224m: The bridge required for the lower Cascade River channel, where 4WDs cross, could almost rival that of the Haast River, which is spanned by a 737m bridge, the seventh-longest in New Zealand. The Octa Report suggests a 150m bridge across a narrower, contained section of the river higher up near the Martyr homestead. Long bridges would also be needed at the Martyr River (74m), Rainbow Creek (70m) and the Hope River (60m). Six 50m-bridges are on the list.
* A five-year construction period: With modern machinery and political will, the road could be finished in five years.
- OTAGO DAILY TIMES