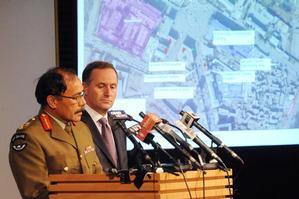 Stripping minister Anne Tolley of part of her education portfolio during a Cabinet reshuffle was not a reflection on her capability, but a move allowing her to fully focus on national standards implementation, Prime Minister John Key said today.
Ministerial changes were announced this afternoon, giving high-flyer first term MP Steven Joyce Mrs Tolley's Tertiary Education Minister portfolio.
Mrs Tolley, as Education Minister, will look after the controversial national standards and the youth guarantee policy.
"National standards is of critical importance to the Government. It's our number one objective in the compulsory education sector to see that successfully rolled out in 2010, and by relieving Anne Tolley of her tertiary responsibilities, I'm giving her the maximum opportunity to concentrate on a successive implementation of both national standards and the youth guarantee," he said.
There has been criticism on how Mrs Tolley has handled her workload. Though she admits her portfolio was heavy, the Education Minister said speculation that the move was based on her competence was completely wrong.
"The prime minister expressed a huge support for the work that I did in tertiary last year and the Cabinet supported the tertiary strategies that I developed."
Mrs Tolley said she would make the most of working on national standards, "the biggest and most exciting change in New Zealand education in the last 20 years".
"The prime minister has the confidence in me and wants me to really focus on that this year. It's just an enormous opportunity."
Among other ministerial changes, Kate Wilkinson takes on Tim Groser's conservation portfolio, and he receives the new title of Minister Responsible for International Climate Change Negotiations.
"This change reflects the fact that Tim Groser is frequently out of the country representing New Zealand's interests in the trade and climate change fields," Mr Key said.
"The reality is it partly in the sense that when he turns up at this meetings, people look at him and say `if you are the associate minister, where is the minister?' And of course when it comes to international negotiations, he is the minister."
Mr Key said he was very pleased with how ministers are working and "the changes will help ensure that the Government continues its progress towards implementing key election policies".
"I want to thank Mrs Tolley and Mr Groser for their contribution in the portfolios that today they are handing over to colleagues. In both tertiary education and conservation, they leave sound foundations for their successors to build on."
Changes are effective from tomorrow. There are no changes to rankings.
- NZPA