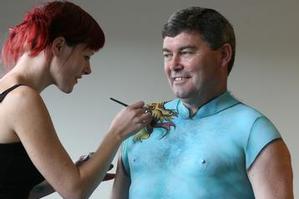 Embattled North Shore mayor Andrew Williams has offered a qualified apology to Prime Minister John Key, saying if he sent him a ranting, late-night text, then prescription drugs and sleeplessness were to blame.
While Williams maintained he couldn't recall sending the 3.30am message - described by Key as "aggressive" and "obnoxious" - he admitted this week: "I could have, and if I did, I apologise."
Williams said he might have sent the message while "at a bit of a low ebb" after breaking his leg on a cycling holiday in March.
He was working long hours despite the injury, getting little sleep, and was "on a lot of painkillers".
"Maybe at that time I did send something," he said. "If I did, I apologise, but I certainly don't recall it."
The admission came as Williams went into a self-imposed media exile following Key's comments on the text, the latest in a series of inappropriate late-night messages and emails made public.
The former diplomat admitted sending "grumpy emails" to other politicians, but said pain and sleeplessness were to blame for those too.
"During that period I probably wasn't in the best frame of mind because I continued to overdo it when I should have been resting a bit more."
Former mayor George Wood was on the receiving end in October, with a barrage of late-night calls and texts prompted by an email about the naming of a North Shore park.
In response, Williams phoned four times, twice at 11.11pm, then at 11.22pm and 11.26pm, sent two emails, at 11.07pm and 11.34pm, and finished with a three-part text, at 11.55pm.
It read: "I suggest you either GROW UP and become a statesman, or I will have to start responding to your ridiculous accusations. And I will do that with great gusto. Get a life George. At the moment most people think you are pathetic."
Williams said the messages followed 18 months of criticism by Wood: "He doesn't seem to understand that he's no longer the mayor and he continues to think he can have some say," he said.
Supporters warned him not to react, "but then I just get to the point where I've had enough".
Wood had his lawyers ask Williams to stop contacting him.
He said he wasn't part of any deliberate campaign to discredit Williams, but as a citizen was entitled to be involved in local matters, particularly discussion over Auckland's councils merging into the Supercity.
"If he's saying he's annoyed about me not going out to pasture after I cease to be mayor, then unfortunately ... there has been the matter of the reformation of Auckland, and I have a very keen interest in that."
Williams worked in the export meat industry, and was trade commissioner for Belgium and Luxembourg and honorary vice-consul of Belgium for nine years.
It's been suggested drinking pushes him to breaking point. He said that wasn't the case and he drinks "the same as any other average Kiwi male".
Williams said the drinking allegations and furore over the Key text, were part of a campaign to discredit him because of his opposition to the Supercity.
He said Wood and Glenfield Community Board members Nick Kearney and David Thornton were among those working "under the radar" to undermine him, and said the plot had links to the Act Party.
Kearney, who is an Act member, said he knew nothing of the Key text until the story broke in the media and denied there was a campaign to upset Williams: "He's doing a good enough job himself, he doesn't need me to help."
Thornton said the mayor had opponents, but denied there was an orchestrated campaign against him. He said Williams' antics reflected poorly on the North Shore and he tried unsuccessfully this week to have councillors censure him for the Key text.
"I don't think he does himself or the city any good," he said.
Williams said the Key text would have been in relation to the Prime Minister's role as MP for Helensville.
He is unrepentant for keeping in close contact with four MPs from the North Shore and around - Key, Jonathan Coleman, Wayne Mapp and Murray McCully - over the Supercity plans by text and email.
The night Parliament sat under urgency considering proposed legislation to merge Auckland's councils he sent a message to all four, annoyed that none was present in the House. The last, a four-part text, was sent at 12.17am.
Was it aggressive? "There was no swearing, there was no other sort of language."
It may have said something like: "It's not good enough, I expect better from my members of Parliament."
Mapp didn't recall the content of the message, only the general tone. "We were surprised to get his views expressed as strongly as they were."
He said he maintained a cordial relationship with Williams, but argued the mayor's approach to Supercity matters had been unhelpful.
Asked whether Williams' approach changed when his leg was injured, Mapp said: "I've received emails like that over quite a period of time. They certainly came to a peak around the Auckland governance issues, and that may have coincided with the time that he broke his leg."
Williams found an unlikely ally in Jim Anderton this week. Anderton issued a statement saying Williams was copping unfair flak because Key had produced no evidence of the text.
"Andrew Williams is an outspoken mayor - but then all good mayors are outspoken." Williams is now on holiday.
From mid-January, his focus will be on getting North Shore in the best shape for transition to the Supercity and after that may quit politics.
"Politics is a pretty dirty business really, and people like me who are genuinely trying ... you do as much as you can, but people just seem to have this other agenda.
"They want to knock you back all the time."
* Shenanigans
2003: During his first term as a North Shore councillor, Williams fails in a bid to ban the Lord's Prayer at meetings.
2007: Williams is elected Mayor of North Shore City.
August 2008: Williams is taken to hospital after collapsing at a Navy function. He later said he was exhausted and dehydrated.
November 2008: Williams refuses to apologise after calling a councillor a "smart-arse" during a meeting.
March 2009: Williams is criticised for spending $1343.52 on Stop Banks wine, in a jibe at his Auckland counterpart John Banks.
April 2009: Banks brands Williams a "lunatic" after receiving texts following a mayoral meeting.
July 2009: Williams is accused of rigging a charity auction when his daughter bids to win a ride in a flight simulator with him.
October 2009: Williams repeatedly phones former North Shore mayor George Wood, calling him an embarrassment to the city. Voicemail messages are released by blogger Whaleoil.
December 2009: John Key describes an early-hours text from Williams as aggressive and obnoxious.
December 2009: Texts sent to Christchurch Mayor Bob Parker in July complaining about poor restaurant service in his city are released.
- HERALD ON SUNDAY