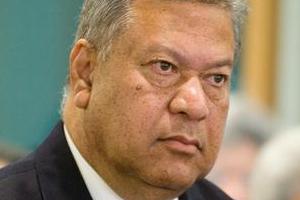 Former Government minister Taito Phillip Field, who is serving a jail term for bribery and corruption, is appealing against his conviction and sentence.
The appeal was filed on October 30, less than a month after Field was jailed for six years on 11 counts of bribery and corruption as an MP and 15 of wilfully perverting the course of justice.
And the amount the Crown wants Field to pay under the Proceeds of Crimes Act has been revealed as $58,000.
The former Labour MP for Mangere accepted free labour from grateful Thai tradespeople whom he had assisted with immigration matters.
He was found guilty in August in the High Court at Auckland.
Crown prosecutor David Johnstone confirmed yesterday that Field was appealing. A date for the hearing has not yet been set.
Field's lawyer, Helen Cull, QC, said she had only just been instructed by Field's family and couldn't comment.
At sentencing, Justice Rodney Hansen said Field "shamelessly" traded on the friendship and loyalty of Thai friends to try to avoid detection.
"What you did was sophisticated enough to succeed in diverting the [Government- ordered] Ingram inquiry ... It was an elaborate, careful, planned attempt to pervert the course of justice," he said.
Mr Johnstone said the Crown was continuing its attempts to get a $58,000 monetary penalty from Field under the Proceeds of Crimes Act.
The money was being sought because it was "derived from his bribery and corruption offences".
In October, the Herald reported that prison guards were upset that Field was being given an easier time than other inmates and had been transferred to the Spring Hill prison in the Waikato, where there is a Pacific Island focus unit.