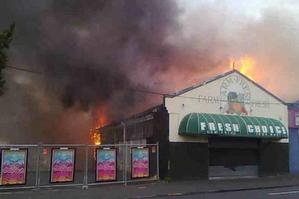 Firefighters from more than 17 appliances have battled a massive blaze in the Auckland suburb of Avondale this evening.
Emergency services were called to the fire which engulfed three one-storey buildings just after 7pm.
One of the buildings was called 'Tools and Things', according to a Herald reporter at the scene who witnessed up to 100 bystanders watching the blaze.
At its peak the fire reportedly reached 20 metres by 30 metres in size opposite the Hollywood Cinema, near the main roundabout on Great North Rd.
Police have cordoned off the scene while firefighters work to contain it.
The fire is now under control but is still burning.
One woman was reportedly taken from the scene by ambulance though she appeared unhurt.
- NZ HERALD STAFF