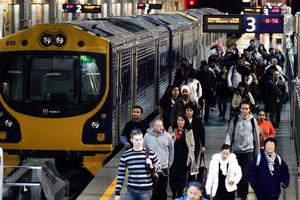 Auckland's rail system will receive $500 million to buy electric trains.
Transport Minister Steven Joyce said the loan to KiwiRail would kick forward the process early next year, with the first electric trains operational from 2013.
"After double tracking, electrification is the important next stage in the development of Auckland's rail network. Rail is an increasingly important way for Aucklanders to get to work each day.
"Today's announcement means Auckland can look forward to a fleet of modern electric trains running on a modern and more reliable network."
Auckland Regional Council chairman Mike Lee said "public transport in Auckland is set to take a huge leap forward" thanks to the Government's funding.
"This is a historical moment for Auckland ," he said.
"The decision will not only significantly improve the quality of Auckland public transport, but also change the way Aucklanders view public transport and their city." Mr Joyce said the upgrade in the Auckland rail network would give commuters more frequent trains at peak times and help future passenger demand.
"New Zealand's future success is tied to that of Auckland as our largest city and largest local economy.
"Getting the rail network operating as efficiently as possible is vital to increased economic growth that will deliver flow-on effects for the rest of the country."
Further work needs to be sorted with the Auckland Regional Transport Authority and the NZ Transport Agency to ensure train fees remain affordable with expansion, Mr Joyce said.
The $500m brings the Government's investment in Auckland's metro rail system to $1.6 billion.
Funding for the trains was originally planned to come out of Auckland's regional fuel tax. But the Government did not proceed with it earlier this year, calling it an "expensive and inefficient" way to collect revenue.
KiwiRail chief executive Jim Quinn said a team was being assembled to manage the procurement process.
"Our first task will be to review the information that has already been gathered and then get a Request for Tender document into the market place," he said.
"We expect to be in a position to do this early next year and to award a tender before the end of the year."
- NZPA